1.0 Introduction
Transport corridors are known to foster regional trade and development. Historically, South Asian countries have had restrictive trade policy regimes with barriers to cross-border trade. Attempts to create an integrated modern transit across regions in South Asia have failed. However, in response, the Eastern South Asian countries Bhutan, Bangladesh, India have signed multilateral and bilateral agreements. Transport integration is crucial for creating cross-border, integrated markets in the region while a lack of transport integration would contribute to the hurdles for transborder trade.
2.0 India-Bangladesh
The India- Bangladesh border is the fifth-longest border in the world and it is a 'hard' border. The India-Bangladesh border could be made irrelevant from an economic perspective by removing trade barriers if the two countries were to sign a free trade agreement. India would also provide a stimulus to economic activity for its own eastern and north-eastern states by helping the economy of Bangladesh to grow. According to an estimate, improving transport connectivity would increase exports even further yielding a 297 per cent increase in Bangladesh's export to India and a 172 per cent increase in India's export to Bangladesh. Bangladesh is India's largest trade partner in South Asia and India is the biggest trade partner of Bangladesh. Bilateral ties between India and Bangladesh have grown steadily over the last decade to cross $1bn in 2018-2019. In the fiscal year (FY) 2019-2020, India's export to Bangladesh was $18.2bn and imports were $ 1.26 bn. Bangladesh is the biggest development partner of India. In addition to the lines of credit (LOCs), the Government of India has been providing grant assistance to Bangladesh, including funding for the construction of the Akhaura-Agartala rail link, dredging inland waterways in Bangladesh and the construction of the India-Bangladesh Friendship Pipeline. There have been positive developments on the India-Bangladesh connectivity issue since 2008 and both governments are undertaking measures to restore the pre-1965 rail links and other transport links. The Indo-Bangladesh Joint Communique was signed in 2010, emphasizing the need for connectivity between the two countries. There are three major seaports located close to the fluvial and maritime borders between India and Bangladesh and in addition to this India could use the ports of Chittagong and Mongla, for the movement of goods to and from India by road and rail. The benefits from these steps could be many as according to one estimate it now takes 45 days to transport a container from New Delhi to Dhaka, Bangladesh. This is because the container is transported from Tughlakabad and then moves via the Mumbai-Singapore or the Colombo-Chittagong maritime route. It is from Singapore that the container is shipped to Chittagong Port and then transported by rail to Dhaka. The distance of 2,000 kilometres between Delhi and Dhaka can be covered in two to three days by rail.
Bangladeshi railways have undertaken upgradation and the laying of missing tracks on the Bangladeshi side from the Chilahati station to the International border. A railway link between Haldibari in India and Chilahati in Bangladesh was inaugurated in December 2020. This will be the fifth operational link between India and Bangladesh. The erstwhile rail link from Haldibari-Chilahati sanctioned in 2016-2017 will prove to be beneficial not only for transit into Bangladesh from Assam and West Bengal but also for goods and passenger traffic for tourism. The Petrapole (India)-Benapole (Bangladesh) link has been operative since 2001 with Benapole being the principal border crossing between India and Bangladesh. The other three broad gauge corridors which are operational and are used for export and import of goods are the Gede (India)-Darshana (Bangladesh), Singhabad (India)-Rohanpur (Bangladesh) and Radhikapur (India)-Biral (Bangladesh) rail links.
3.0 Tripura-Railway network and Connectivity in Northeast India
Bangladesh is known to have a trade gap with Tripura which works in favour of Bangladesh. Efforts are being made by India and Bangladesh in this regard to implement a plan to expand rail networks in the region. The Agartala-Sabroom (Southern Tripura) broad gauge line commissioned in 2008 has been completed. The newly constructed Maitri Setu bridge (2021) over the river Feni in Southern Tripura which connects Sabroom in Tripura with the Chittagong port of Bangladesh will ferry heavy machines and goods to and fro from the north-eastern states and the rest of India via Bangladesh. The Agartala-Akhaura Bangladesh rail line, conceived in 2010 will connect Gangasagar in Bangladesh to Nischintapur in India (10.6 kilometres) and then connect Nischintapur to Agartala railway station (5.46 kilometres), the state capital of Tripura. A checkpoint and a cargo handling facility at Nischintapur, which is the junction point of the Agartala –Akhaura rail link at Tripura, is planned by India. The new track will open a trade route to Chittagong port and will reduce the length of the journey between Agartala and Kolkata, by passing through Dhaka instead of Guwahati, from 31 hours to 10 hours as it will now travel 550 kilometres instead of the earlier 1,600 kilometres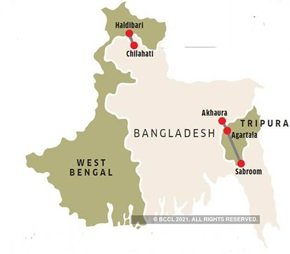 4.0 Bhutan and Bangladesh
Bhutan's relations with Bangladesh date back to 1971 when it welcomed the emergence of Bangladesh as an independent nation. The two countries made constant efforts to develop their trade relations. Bhutan and Bangladesh had entered into trade and transit agreements in 1980 by which Bangladesh granted duty-free access to 18 products of Bhutan. The Phunstcholing (Bhutan) – Burimari (Bangladesh) – Changrabandha (India) route opened in 1988 thereby increasing the volume of trade. Bangladesh provides landlocked Bhutan with an accessible regional market and a source of overseas supplies through her two major seaports Chittagong and Chulna. The bilateral trade volume between the two countries was just $ 12.77 million in the fiscal year 2008-2009 with Bangladesh exports to Bhutan amounting to $ 0.61 million while imports from Bhutan amounted to $ 12.16 million. In the fiscal year, 2018-2019 the bilateral trade volume reached $ 49.65 million, out of which Bangladesh exports to Bhutan totalled $ 7.56 million against imports of $ 42.09. The total trade between the two countries has been on the rise over the decade, with the volume now exceeding the US $ 50 million. Bhutan's exports to Bangladesh have been recorded at their highest in 2017, making Bangladesh the only country with which Bangladesh has a massive trade surplus. Bhutan would, with the signing of the Preferential Trade Agreement (PTA) in 2020, get duty-free access to sixteen more products in addition to the eighteen covered by the previous agreement with Bangladesh. Ten more products from Bangladesh will now get duty free access to the Bhutanese market in addition to the 90 existing products. Bangladesh is also the main buyer of Bhutanese oranges and apples and is keen to invest in the fruit and vegetable processing industries in Bhutan.
5.0 Bhutan and India
The 1949 Friendship Treaty has guided the India-Bhutan relations since the days of Jawaharlal Nehru and formed the basis of bilateral relations between India and Bhutan. The treaty ensured that the Government of Bhutan would be guided by the Government of India in its external matters. Earlier Bhutan had followed a policy of isolation. It was only after the 1950s that the Himalayan Kingdom moved away from this tradition and began to establish relations with the outside world. The status of Bhutan changed when it joined the United Nations as a member in 1971. India and Bhutan are currently connected with Bangladesh through roads. India and Bhutan signed an agreement for establishing rail links between their border towns, under a Memorandum of Understanding (MoU). India-Bhutan Joint Press Statement was issued on 28th January 2005 to that effect. This came as part of the overall strategy of upgrading the border infrastructure and connectivity between the two nations. The five feasible trade routes to Bhutan are a 57 km line to Kokhrajhar (Assam) to Gelephu, a 51.5 km line from Pathsala (Assam) to Nanglam, a 48 km line from Rangiya (Assam) to Sadrup Jongkhar, a 23 km line between West Bengal Banarhat to Samste and a 17.52 km line between Hasimara in West Bengal to Phuentsholing. A 2020 Bhutan-India summit held talks on cross-border rail links and the construction of a direct railway link from Munjai (West Bengal) to Nyoenpaling (Bhutan). Many projects have been lagging behind due to various reasons, one of which could also be the interference from China. Bhutan is landlocked between the two nations of China and India. China has been seen investing in building infrastructure in all border regions to boost its trade and increase economic activity and it was only recently that China launched its first fully electrified bullet train in Tibet's Himalayan region. This rail network links the provincial capital Lhasa with the Tibetan border town of Nyingchi, close to Arunachal Pradesh in India. Bhutan is working on the idea of a railway link to Bangladesh through India. Border crossings are always a cause of higher costs, uncertainties on delivery time and damages incurred during the transportation of the cargo as some items may be more susceptible to damage than others.
6.0 Conclusion
Train service tends to be more comfortable, cheaper and faster than road or maritime transport. Rail connectivity can also solve issues of procedural inefficiencies, involving customs inspections, cumbersome paperwork, informal payments, inadequate physical infrastructures such as warehouses, parking and storage facilities at border crossings and ports. Historically the Government in the regions have provided transport infrastructure through state-owned corporations like the Indian Railways and the Bangladesh railways whereas the private sector initiatives in the rail services have been few. India has made efforts over time to convert its rail network to a Broad-Gauge system and so has Bangladesh. Track maintenance in the flood-prone areas of Bangladesh and poor utilization of equipment issues the Bangladeshi railways has to deal with. The bilateral ties between Bhutan and Bangladesh are promising and Bangladesh is seen assisting Bhutan in several sectors. Bhutan and India have always found areas of bilateral cooperation which include healthcare, culture and hydropower among others. Bangladesh will be a big beneficiary as the market of the north-eastern states of India would become easily accessible for its products once transit is provided. Bangladesh would as well be in a position to import raw materials and export finished goods to the north-eastern states of India, due to the physical proximity of the region. A railway link will give Bhutan access to India's ports and markets and make Bhutan accessible to the immediate region around it.
Travel time is the main concern for trade between the countries and significant improvements are needed in the rail operations if the railway network has to capture this traffic as the main mode of transportation. Regional cooperation needs to be strengthened and the need of the hour is to connect border towns with railway networks. The extensive use of railways will facilitate transit and will benefit trilateral relations.
References
Uma Subramanian and John Arnold, South Asia Subregional links in Transportation and Logistics in South Asia World Bank Report,2001, The World Bank Washington DC https://documents1.worldbank.org/curated/en/529151468769277296/pdf/multi0page.pdf
International Development in Focus, Connecting to thrive: Challenges and Opportunities of Transport Integration in Eastern South Asia ByMatias Herrera Dappe and Charles Kunaka Editors, International Bank for Reconstruction and Development /World Bank 2021 https://openknowledge.worldbank.org/bitstream/handle/10986/34916/9781464816352.pdf
Unblocking Bangladesh –India Trade: Emerging Potential and the way Forward https://openknowledge.worldbank.org/handle/10986/11996?locale-attribute=es
Divya Agnihotri, Bhutan-Bangladesh Relations Politico-Economic Retrospect in Himalayan and Central Asian Studies, Journal of Himalayan Research and Cultural Foundation, Bangladesh Special, Vol.19, Nos1-2 January-June 2015, pp 236-251
Sreeradha Datta, India-Bangladesh Cross-border Connectivity in Four Decades of India Bangladesh Relations, Historical Imperatives and Future Direction inSmruti S Patnaik (ed) 2012 Institute of Defence Studies and Analysis, New Delhi
Bangladesh eyes greater connectivity with Bhutan, Daily Star April 12,2019 https://www.thedailystar.net/country/news/bangladesh-eyes-better-connectivity-bhutan-fm-1728988
India begins to work on bridge linking northeast to Chittagong, The Hindu Agartala April11 2016 https://www.thehindu.com/news/international/south-asia/India-begins-work-on-bridge-linking-northeast-to-Chittagong/article14416647.ece
Bangladesh –India connectivity: Passage through Tripura by Jayant Bhattacharya Observer Research Foundation Raisina Debates, India –Bangladesh @50: Commemorating Bilateral ties Series https://www.orfonline.org/expert-speak/bangladesh-india-connectivity-passage-tripura/
Agartala-Akhaura rail link in September 2021 The Times of India 7 February 2020 https://timesofindia.indiatimes.com/city/agartala/agartala-akhaura-rail-link-in-september-2021/articleshow/74001708.cms
India –Bangladesh rail link: Chilahati-Haldibari track inaugurated to increase trade and people-to-people contact 17 December 2020, Financial Express https://www.financialexpress.com/infrastructure/railways/india-bangladesh-rail-link-chilahati-haldibari-track-inaugurated-to-increase-trade-and-people-to-people-connect/2151817/
R.C.Mishra Emergence of Bhutan, See, Chapter 8, Bhutan-Bangladesh Relations, pp 103-115, Sandarbh Publishers 1989
New prospects for Bhutan –Bangladesh trade 13 April 2015 Kuensel https://kuenselonline.com/new-prospects-for-bhutan-bangladesh-trade/
Ministry of Economic Affairs Thimphu, Bhutan 7 December 2020 https://www.moea.gov.bt/?p=10118
Bhutan signs preferential trade agreement with Bangladesh 7 December 2020 Kuensel https://kuenselonline.com/bhutan-signs-preferential-trade-agreement-with-bangladesh/
Bhutan and Bangladesh- A story of two nations connected by a shared destiny, 4 August 2018 Kuensel, https://kuenselonline.com/bhutan-and-bangladesh-a-story-of-two-nations-connected-by-a-shared-destiny/
Bangladesh wants to expand trade with Bhutan 13 May 2016 Kuensel https://kuenselonline.com/bangladesh-wants-to-expand-trade-with-bhutan/
100 Bangladeshi products to get duty-free access to Bhutan 05 December 2020, The Financial Express, https://www.thefinancialexpress.com.bd/economy/100-bangladeshi-products-to-get-duty-free-access-to-bhutan-1607176199
Govt to restore rails links to India, Nepal, Bhutan 5 April 2017, Dhaka Tribune https://www.dhakatribune.com/bangladesh/foreign-affairs/2017/04/05/govt-restore-rail-links-india-nepal-bhutan
Bhutan's foreign policy Cautious Self Assertion? By Syed Aziz-al Ahsan and Bhumitra Chakma in Asian Survey Vol 33, No 11(November 1993) pp1043-1054https://www.jstor.org/stable/2644998 (accesssedon5.07.2021)
Indo-Bhutan railway Project to be reviewed 6 October 2015 Kuensel https://kuenselonline.com/indo-bhutan-railway-project-to-be-reviewed/
Bhutan exploring railway link to India3 April 2021 Kuensel https://kuenselonline.com/bhutan-exploring-railway-link-to-bangladesh/
For better Connectivity 10 July 2019 Kuensel https://kuenselonline.com/for-better-connectivity/
How poor connectivity is acting as a hindrance to India's Act East Policy The Economic Times 20 October 2019 https://economictimes.indiatimes.com/news/politics-and-nation/how-poor-rail-connectivity-is-acting-as-a-hindrance-to-indias-act-east-policy/articleshow/71665523.cms
Bhutan and India ventures into a new beginning Kuensel https://kuenselonline.com/bhutan-and-india-ventures-into-a-new-beginning/
China launched first fully electrified bullet train in Tibet Railway Technology https://www.railway-technology.com/news/china-electrified-bullet-train-tibet/
India-Bhutan sign landmark accord on rail link The Times of India 25 January 2005 https://timesofindia.indiatimes.com/india/india-bhutan-sign-landmark-accord-on-rail-link/articleshow/1000764.cms
Soon, a train connecting India to Bhutan another to connect northeast India to Bangladesh, Times Travel 3 March 2020 https://timesofindia.indiatimes.com/travel/destinations/soon-a-train-connecting-india-to-bhutan-another-to-connect-northeast-india-to-bangladesh/as74459627.cms