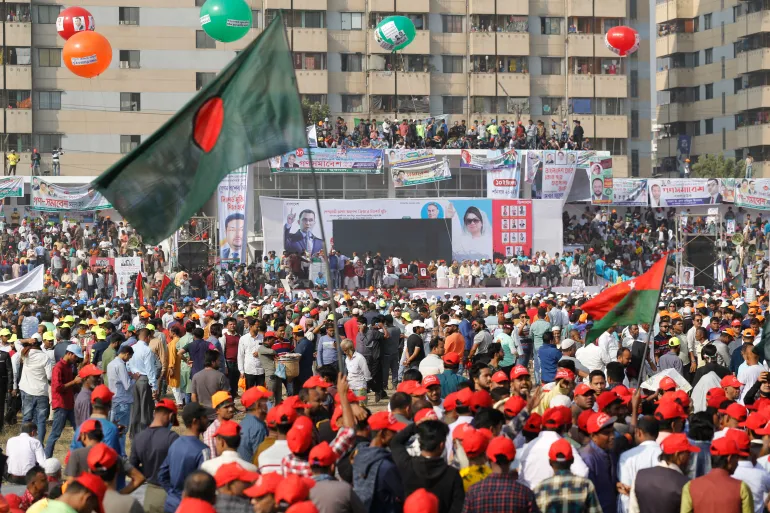 With the national election slated for less than seven months, a  growing leadership crisis seems to have plagued Bangladesh Nationalist Party (BNP), a marker that observers believe explains the party's sheer reluctance to boycott polls. 
Its fugitive acting chief Tarique Rahman's call from London to overthrow the government with all-out violence, instead of taking part in elections caused an open "rebellion" at the party's grassroots level against the Tarique-backed top echelons, according to reports in Bangladesh media. 
Already convicted in a litany of cases including embezzling public funds, money laundering and patronizing militants during the BNP-Jamaat combine led by Tarique's mother, Begum Khalida Zia, that ruled the country between 2001 and 2006 there are also allegations of his charging 'fat fees' for offering nominations in the last national election which have further damaged his image as an acceptable leader, according to BNP activists. 
The moves of some BNP leaders parting ways with Tarique loyalists to vie for the upcoming mayoral race independently are seen by analysts as telltale signs of an emerging rift within the party rank and file. 
To make matters worse, a  series of threats from central leaders backed by Tarique failed miserably to dissuade party leaders from taking part in polls and that shows the diminishing influence of Tarique within the party. 
"BNP's grass-root leaderships turning up against their central command" reads a report telecast by DBC, a leading national channel, revealing the participation of a good number of local BNP leaders in Gazipur city corporation election who are like "up in arms" against the central leadership as they are fielding nominations to vie for ward councilors".
Defying "threats of expulsion" from Tarique loyalists, according to Bangladesh media reports, several local BNP leaders and activists have submitted their nomination papers as independent candidates in the mayoral election and for other impending city corporation elections too.
The local BNP leaders feel that since the BNP has made a policy decision not to participate in the polls with the party symbol, they can take part independently, lending confidence to the existing electoral system.
"Participation of such a large number of party leaders is a major blow on BNP's claim over "calling into question" the "neutrality" of the electoral bodies, observed a senior political leader.
"Without restoration of a caretaker system, BNP won't take part in any polls", a BNP senior leader reportedly stated, a pre-condition equally set by Jamaat-e-Islami.
In stark contrast to this claim, BNP's Hasan Azmal Bhuiyan, a four-time councillor, who submitted his nomination papers for the Gazipur City Corporation polls, told the media "I have submitted nomination papers because I have been elected four times and the people of my area want me to participate in the polls. If I do not take part, those who have control over the wards will not be in safe hands. I want to maintain a relationship with the people and give importance to their opinions by running for office."
The Dhaka Tribune, a national daily, quoted Rajshahi City Corporation Ward 16 Councillor Belal Ahmed, as saying that a total of seven BNP leaders in Rajshahi are running for the councillor position.
In a further blow to the party's public credibility, the emergence of the country as a top performer in the Covid management index by ensuring free vaccines for the entire population alongside the unprecedented expansion of social safety net schemes, including the biggest housing programme for the poor have been attributed as factors for the BNP's loss of popular support.
The pulling out of five BNP lawmakers from parliament on December 10 who vowed to take the battle on the street, reportedly toeing in line with Tarique's dictum, and months later holding of the by-election in those constituencies, let alone no major public protest in those areas have been attributed to another sign of withering public support from Tarique backed group. 
Moreover, a recent rejection by the court of the petition submitted on March 29 by Tarique and his wife's lawyers, seeking permission to defend them in their absence surely dealt a blow to Tarique's ardent loyalists.
According to media reports, the court framed charges against the duo in absentia in a graft case filed by the Anti-Corruption Commission in 2007. And to make matters worse, Tarique's dismal track record of plundering money meant for the public welfare fund and money laundering, already certified by an FBI official and the subsequent court proceedings sealed the political fate of the fugitive leader, according to anti-corruption campaigners. 
Earlier, Transparency International Bangladesh's (TIB) executive director Iftekahruzzaman said that keeping Tarique and his ailing aged mother Khaleda Zia– who have been sentenced by the court – in BNP's top leadership "contradicts" the party's 27-point outline for state reform, which includes stance against corruption, and is a sign of "moral decay".
"His theft of millions of dollars in public money has undermined political stability in this moderate, Muslim-majority nation and subverted US attempts to foster a stable democratic government, a key objective in this strategically important region" is how former US officials in Bangladesh described Tarique's flagrant corruption.
Described by a former US ambassador to Bangladesh as "a symbol of violent politics" for his notorious role during the tenure of his mother, Tarique was reportedly involved in the attempt to assassinate the then opposition leader and Awami League chief Sheikh Hasina, in collusion with militants, in the grande attack carried out on 21st August 2004 grenade attack.
A leaked US cable, courtesy of WikiLeaks, further revealed that Tarique was deemed a "threat to US interest" while the activities of the current BNP top boss led the officials to dub him "an image of kleptocratic government".
According to India's Defence Intelligence Agency's former deputy director general Major-General Ganganjit Singh (Rtd.), Tarique and his Jamaat coterie, in close rapport with some hand-picked Bangladesh intelligence officials, maintained close links with Pakistani terrorist leaders and all of them were responsible for trying to illegally bring in ten truckloads of arms in 2004.
Gangajit Singh said that a month before the arrival of this huge weapons consignment banned Pakistani terrorist leader Syed Salauddin flew to Bangladesh and held meetings with Paresh Barua, Commander-in-Chief of the separatist group United Liberation Front of Asom (Ulfa). "All these happened with the blessings of top figures of BNP-Jamaat led government.," Singh said.
Despite waning support within the party's grassroots, some hardliners and fringe radicals (who often run campaigns on social media pulling up Westerners as "apostates" and even took part in an earlier campaign to "boycott French product") still project Tarique as the leader whose return can satisfy their demand to bring back a "Jamaat backed extremist regime", 
However, the steady stream of vitriolic accusations and threats peddled by Tarique-backed online activists raise the specter of violence and could undo all the progress the country achieved during the past decade under the leadership of Sheikh Hasina, reads a social media post from Awami League activists.
"If you judge them by their hardline campaigners, Bangladesh's future would be ruined.. Our country that is now drawing applause from top global institutions including World Bank and International Monetary Fund, and had been held as a model Pakistan can replicate proved all such campaigns wrong" is how Awami League-backed social media campaigners are responding. 
An eminent professor in a public university says that if you take Tarique's portrayal as a "symbol of violent politics", and consider what his supporters are peddling then you would find there is no effort for course correction in the past decade that the BNP spent in opposition. He requested anonymity for fear of reprisal.
Pointing out at a recent spike in the hate campaign against the Ahmediya community run by Basherkella, a social media platform that reportedly works as the mouthpiece for the Jamaat, an all-weather ally of Tarique, a university graduate from the community said "Tarique's return would have been a nightmare for our community as Jamaat leaders, under the BNP regime, publicly advocated for declaring us non-muslim'.
"One of the three war criminals from Jamaat who were made ministers and was reportedly exposed as a top Tarique confidant, even publicly instigated attacks on our community", he added.
Community leaders from minority groups echoed a similar view, dubbing Tarique, a "threat to the current existence of communal harmony" while a group of eminent rights activists, months ago, deplored the party's conduct after a known hardcore Tarique loyalist Ruhul Kabir Rizvi, a senior BNP leader, publicly called Sultana Kamal, a known rights advocate and another professor, Muntasir Mamun as "AL sympathizers".  
Moreover, the public advocacy by Jamaat-hired British advocate Toby Cadman who reportedly persuaded the UK government to impose a fresh spell of sanctions on Bangladesh and the subsequent hue and cry of Tarique's top aides within the BNP after the plot petered out, triggered another spell of condemnation from the country's rights activists and minority leaders, exposing the complicity between the BNP andJamaat.
"Since the beginning of war crimes trials, Jamaat waged a wave of conspiracy including hiring lobbyists overseas to run a disinformation campaign to defend these war criminals overseas. Among a series of such campaigns, Cadman's move for sanctions is another pointer," added Advocate Rana Dasgupta, general secretary of the Bangladesh Hindu Buddhist Christian Oikya Parishad.
Tarique's father, General Ziaur Rahman, who usurped state power as the country's first military dictator after the assassination of the country's founding father Bangabandhu Sheikh Mujibur Rahman, legitimised the pro-Pakistan Jamaat, introduced constitutional amendments that undermined the country's secular democratic polity, and finally declared Islam as the state religion in the youngest nation in South Asia.