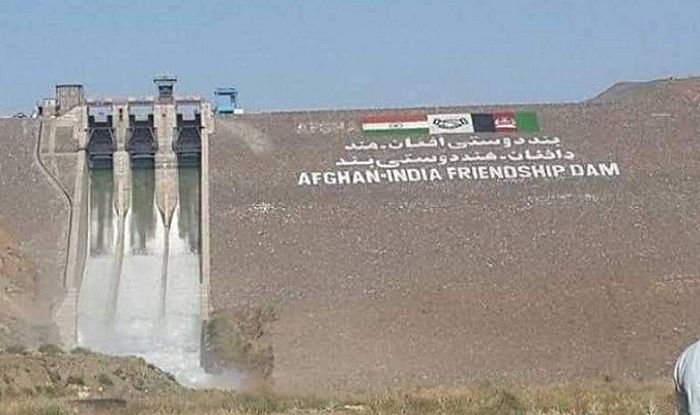 A day before the Taliban takeover of Kabul, on 14 August, India's humanitarian aid to the Afghan people was even appreciated by the Taliban when spokesperson Suhail Shaheen told media that 'we appreciate everything that has been done for the people of Afghanistan'.
India's humanitarian aid to Afghanistan is partly guided by the presence of the Indian population in the country. The presence of Indians in Afghanistan was all-pervasive until the civil war that started in 1979.
Although no official census has been carried out by the Afghan Government, as per a 1972 report from the Indian Embassy in Kabul, the approximate number of Afghan Hindus and Sikhs of Indian origin is said to be 20,000 (Report for 1971 from Kabul, File No. HI/1011 (14)/72-I, 1972, Ministry of External Affairs, National Archives of India). They were mostly residing in Kabul, Kandahar, Jalalabad and Ghazni. While the majority of them have been settled there for generations, some of them migrated from the North-West Frontier Province in 1947, at the time of partition of India and have since acquired Afghan nationality.
Some reports suggest that during the late 1980s, there were about 500,000 Indians scattered across Afghanistan (Reuters, Times of India, November 22, 2006). By the year 1990, the number reduced to a mere 45,000 ("Afghanistan, Central Asia and Iran", Report of the High-Level Committee on Indian Diaspora, Government of India, 2001, pp-7). Most of those persons had become naturalized Afghan citizens. Many Hindus once formed Afghanistan's intellectual backbone. The number reduced further to 30,000 by the end of 1992 (SL and Others (Returning Sikhs and Hindus) Afghanistan v. Secretary of State for the Home Department, CG, 2005, UKIAT 00137, United Kingdom: Asylum and Immigration Tribunal / Immigration Appellate Authority, 7 October 2005).
Afghanistan's Islam was moderate, based on the Sunni Hanafi sect. But after the mujahedeen, civil war and rise of the Taliban in 1994, a harsh form of Islam was introduced forcing most people of Indian origin to flee the country. By 1998, the number reached a dwindling 1200 families with about 6,500 Sikhs and Hindus. As per the estimate of the Indian Embassy in Kabul in 2001, those who remained in Afghanistan were about 1000 mostly residing in Jalalabad and Kabul while a very insignificant number were scattered in other parts of Afghanistan.
In 2017, as per the Indian Mission, which maintains a database on Indians staying in Afghanistan, though many Indians don't register with the mission, there are estimated to be about 2500 Indians in the country, though only about 850 are registered with the Mission (Ministry of External Affairs, India-Afghanistan Relations, October 2017).
Ever since the dethroning of the Taliban by the United States from Kabul in October 2001 and the installation of Hamid Karzai's interim administration, Afghanistan looked towards India with great expectations for all-around development. India reciprocated appropriately and in 2002, a line of credit of US$100 million was offered to the Afghan Government for various reconstruction and rehabilitation projects. India also announced grants of US$ 10 million and US$ 1.5 million for immediate utilization by the Afghan Interim Administration. A year later in 2003, India's commitment adds up to US$ 400 million.
Since 2003, India has been offering training to Afghan teachers, diplomats, journalists, satellite television channels, lawyers, judges, agriculture engineers, bankers and municipal officers to mention a few.
With the passing of time, India's contribution increased. Total support from India increased to $550 million in the year 2005-06. A year later, in 2006-07, India increased its cumulative pledge of assistance by US$ 150 million, raising it to US$ 750 million.
Despite the deteriorating security condition in the country and continued terrorist threat to Indian Embassy, consulates, projects and personnel, India's commitment to Afghanistan's reconstruction and development remained unwavering. Prime Minister Dr Manmohan Singh announced a further pledge of US $450 million during President Karzai's visit to India in September 2008, taking the total Indian pledge for Afghanistan to the US $1.2 billion.
The Union Cabinet of India approved the construction of Afghanistan's new Parliament building in November 2008. By 2009-2010, India's bilateral assistance to Afghanistan has crossed US$ 1.3 billion. Dr Manmohan Singh during his visit to Afghanistan from May 12-13, 2011 announced a further increase in India's aid commitment by US$ 500 million, thus raising the cumulative Indian commitment to US$ 2 billion.
Hamid Karzai left office in September 2014. He proved a close friend of India and Afghanistan received $2 billion in military and monetary aid from India over the course of his 13 years in office.
Dr Ashraf Ghani assumed the office of the president in September 2014. During Dr Ghani's visit to India on 14-15 September 2016, Prime Minister Narendra Modi continued financial support by pledging an additional US$ 1 billion for capacity building taking the total grant to US$3 billion. India remains the largest donor to Afghanistan in the region.
The primary area of India's cooperation with Afghanistan is in the field of a) humanitarian assistance, b) major infrastructure projects, c) small and community-based projects, and d) education and capacity development.
A vital aspect of unfortunate Afghan children's lives is the country's impoverished schools damaged by civil war and previous Taliban administration. In 2003, India contributed to the school feeding programme by distributing protein-fortified biscuits, which is being distributed through World Food Programme. In that year 972,000 Afghan children were receiving a package of 100 grams of biscuit from India every day. In 2007-08, the number of beneficiaries grew to 1.2 million school children daily in 31 provinces and since 2008-09, 2 million Indian biscuits were supplied to about 2 million school children on school days and covering 32 out of 34 provinces in Afghanistan. India helped Afghan Government in very many areas of developmental activities in all the 34 provinces of the country.
For the past 20 years, India has contributed to the all-round development of Afghanistan and in the process earned massive Afghan goodwill. In 2021, Prime Minister Modi sent vaccines and Covid related medical supplies despite the fact that India was under attack from the second wave of the pandemic.
However, India's reconstruction programmes confronted setbacks when the US started peace negotiations with the Taliban. With the signing of a peace deal between the US Government and the Taliban on 29 February 2020, Indo-Afghan relations confronted unimaginable challenges. This is because India sided with the legitimately elected government of Afghanistan while the US refused participation of the Afghan government in the peace deal with the Taliban. The elected government in Afghanistan was ignored by world powers and resultantly, the Afghan National Defence and Security Forces (ANDSF) failed to stand the Taliban onslaught.
Despite years of training and US weaponry, the ANDSF surrendered to the Taliban rather quickly. Once the security apparatus vanished from various provinces, India had no option but to pack consulate after consulate in Kandahar, Herat, Mazar-e-Sharif and Jalalabad in that sequence before closing its Embassy in Kabul.
India's social capital build-up in Afghanistan was lost rather soon as India departed Afghanistan overnight leaving all its investment behind. To avoid such collateral, India tried to make overture towards the Taliban so that her investment in Afghanistan would not reduce to dust after the Taliban takeover.
In past, India's policy to keep the Taliban at arms distance was guided by her age-old relations with the so-called Northern Alliance groups. Even when the whole world hogging the Taliban in Moscow in November 2018, India decided to send two non-entities to see the development from a distance and not to speak to the Taliban. Once the NATO drawdown became rapid, India frantically opened channels of communication with Afghan Taliban factions and leaders including Mullah Baradar in May-June 2021. The Taliban have not reacted favourably as they thought it was too little too late. The other reason is the Taliban sought the opinion of Pakistan before giving any assurance to India and Pakistan maintained a principled policy not to give space to India in Afghanistan.
India's Taliban policy is no secret either to the Taliban or to Pakistan. History is repeating itself in Afghanistan. In 1996, India lost contact with Afghanistan after the Taliban takeover of Kabul which is being repeated again in 2021, when India packed her beg and vacated Kabul leaving everything behind.
While India remains popular among the people of Afghanistan, its official representation on Afghan soil ended abruptly. India is yet to take a call on whether to recognize the Taliban or recognize the Amrullah Saleh's government-in-exile. India's age-old relations with Afghanistan is facing another spell of trouble. Only time will tell us how long her relations with Afghanistan remain cut-off.