INS Vikrant – the name is derived from the Sanskrit word vikrānta meaning "stepping beyond", "courageous" or "bold", is the largest warship ever built in India and the first 'swadeshi' (indigenous) aircraft carrier. This has broken the long-standing myth that only developed countries can build aircraft carriers.
"The goal may be difficult. The challenges may be big. But when India makes up its mind, no goal is impossible," Prime Minister Narendra Modi said while commissioning INS Vikrant as part of the 75th anniversary of Indian independence.
"Till now, this type of aircraft carrier was made only by developed countries. Today, India by entering this league has taken one more step towards becoming a developed nation," he added.
Named after India's first aircraft carrier – INS Vikrant- the version-2 warship is a living example of India's engineering skills, the quest for self-sufficiency (Atma Nirbharta), and the success of the 'Make in India' program. 
The new 45,000-ton aircraft carrier designed and developed by the Directorate of Naval Design, and Cochin Shipyard in collaboration with a number of public and private firms has propelled India into the exclusive group of six nations that can design, build and operate their own aircraft carriers.
A self-contained ship INS Vikrant is equipped to travel non-stop for 13890 km with a crew of 1700 officers and sailors. The Vikrant with her fleet of 30 fixed wing and rotary aircraft — including MIG-29K, Kamov-31, Light Combat Aircraft (LCA), and Advanced Light Helicopters (ALH) will act as a force multiplier and add punch to the Indian Navy's fist in war and peace.
Built at an overall cost of about Rs 23,000 Crore, the 262-meter-long carrier – much larger and more advanced than her predecessor can travel at a speed of 28 Knots/hour. She has 14 decks to park six helicopters and 12 fighter jets apart, and two heavy-duty lifts to ferry the aircraft to the runway and back to the hangar.
Steel Authority of India Limited (SAIL) supplied almost 30000 tonnes of DMR grade specialty steel for building the Indian Navy's first swadeshi Aircraft Carrier. The entire quantity of DMR grade specialty steel –an import substitute, was supplied by SAIL's steel plants at Bhilai, Bokaro, and Rourkela. This led to an estimated saving of Rs. 2000 Crores.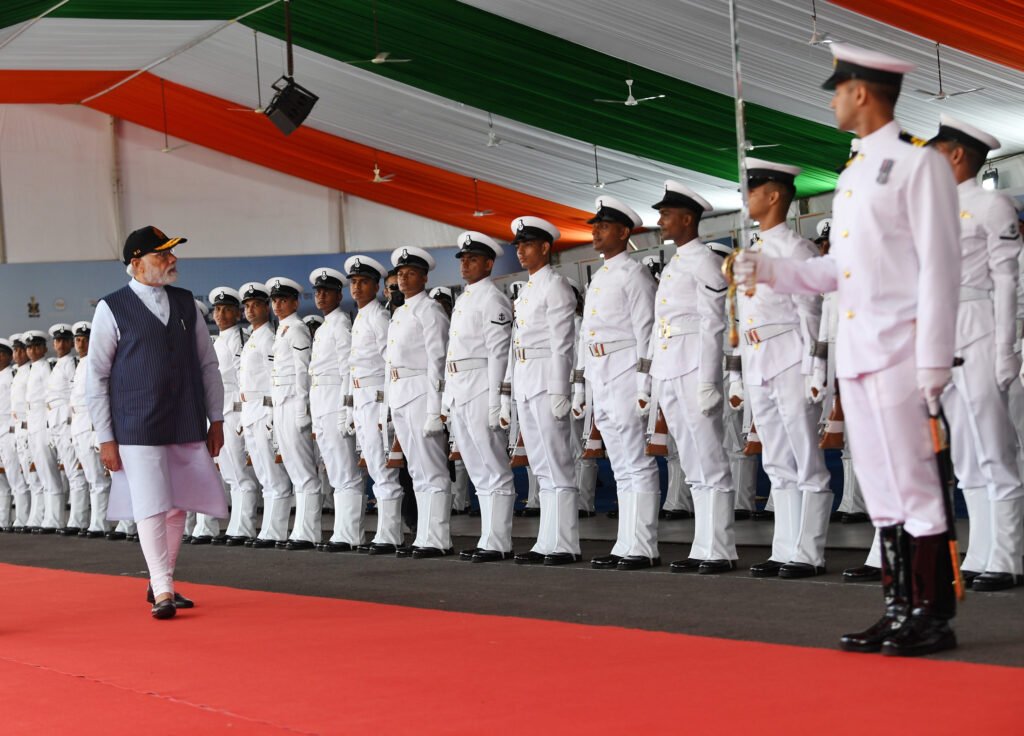 India ideally needs at least three aircraft carriers to safeguard national interests above, on, and under the surface of the Bay of Bengal, the Arabian Sea, and the Indian Ocean. Though these may seem to be white elephants in terms of the cost of building/acquisition and maintenance, they are assets that India needs and cannot do without to secure maritime frontiers. After all, carriers cannot be built overnight -it takes time to build one.
Aircraft carriers are floating airbases for carrying, arming, deploying, and recovering aircraft as well as for command and control of naval fleets in times of war and peace. At present eleven other nations operate a total of 46 aircraft/helicopter carriers worldwide.
Aircraft carriers supported by destroyers, frigates, corvettes, minesweepers, and submarines are invariably the flagships of naval fleets and are among the most valuable sea-borne assets for a show of strength on the high seas during war or peace. Modern nuclear-powered carriers can make up to 400,000 gallons of fresh water a day and go on sailing in the sea for decades without refueling.
For instance, USS Gerald R. Ford – the world's largest aircraft carrier, and the largest warship ever constructed (in terms of displacement) – named after Gerald Ford the 38th President of the United States, can deploy more than 75 aircraft for surveillance, support, and combat – anywhere in the world without the need to seek permission from nearby countries to take-off, land, refuel or operate from their air bases.
The United States has 11 aircraft carriers and 9 "helo" carriers followed by Japan and France with four each. China has three aircraft/ helo carriers, while the United Kingdom, Italy, Australia, Egypt, and South Korea have two each. India, Russia, Spain, Brazil, and Thailand currently have only one carrier in service.
Actually, roughly half of these aircraft carriers today are technically helicopter carriers, or multi-tasking amphibious assault ships like Spain's Juan Carlos I named after the former King of Spain that can either carry a full fleet of helicopters, or a combination of helicopters and light aircraft. 
Looking at the events in perspective, India's first flagship carrier INS Vikrant (R11) was a 210-meter-long Majestic class aircraft carrier originally called HMS Hercules. She was built for the British Royal Navy during World War II but was put on hold when the war ended. India purchased the incomplete carrier in 1957 and commissioned it. She was capable of carrying 23 Aircraft/ Helicopters of the Indian Navy in 1961. Captain Pritam Singh Mahindroo was its first commanding officer. Lt Cdr R. H. Tahiliani who went on to be the 12th Chief of the Naval Staff carried out the first deck landing and also served as the 10th commanding officer of INS Vikrant (1976-77). In 1997, the Vikrant was decommissioned and converted into a museum ship before being auctioned as scrap in 2014 because the ship was proving too costly to maintain and no private bidder came forward to fund the museum's operations. 
Similarly, India's second aircraft carrier INS Virat was originally commissioned as HMS Hermes and served as the flagship of the Royal Navy during the Falklands War. She was thereafter commissioned in the Indian Navy and served for almost 30 years – covering a total of 1,094,215 kilometers over a period of 2,250 days at sea. On 23 July 2016, the Viraat sailed from Mumbai to Kochi for the last time under her own steam and was formally decommissioned in 2017 after being stripped of her weapons and operational equipment. INS Virat – will be remembered in history as the last British-built ship and the oldest aircraft carrier in service in the world.
India's third Aircraft carrier INS Vikramaditya– ('powerful Sun", named after an ancient Indian monarch) is a former Russian aircraft carrier called Marshal Gorchakov. India purchased her from Russia after modifications. The warship has 22 decks and 2,500 compartments, of which 1,750 were completely rebuilt. INS Vikramaditya — equipped with 26 MIG 29 K, 10 Kamov 31 helicopters, and a wide range of sensors, long-range air surveillance radars, electronic warfare suite, anti-ship missiles, beyond visual range air-to-air missiles, guided bombs, and rockets —is today the flag Ship of Indian Navy. On 21 January 2017, the State Bank of India opened an ATM — making Vikramaditya the first Indian Navy ship to have an ATM on board.
Vikrant is the second aircraft carrier in service with the Navy. INS Vikramaditya is officially expected to have a life of 40 years because nearly 70% of the ship and her equipment is new and the remainder has been refurbished. Hopefully, these two aircraft carriers will make up the backbone of the Indian Navy for a long time to come.  
Another Aircraft carrier, the 75,000-ton INS Vishal also known as Indigenous Aircraft Carrier 2 (IAC-2), is intended to be the second aircraft carrier to be built in India, but will take a minimum period of 5 years to be operational. Initially, the carrier was to be launched in the 2020s but is now expected to be ready for active service by the early 2030s. INS Vishal is expected to replace INS Vikramaditya. But who knows? By that time, even INS Vikrant may be on the verge of retirement. 
Meanwhile, Vikrant will take at least 15 more months to be ready for operations in 2023, and till that time may be like a rudderless boat without oars.