As per the estimate made by Watson Institute, Brown University, the United States spent USD 2.26 trillion during the 20-years war in Afghanistan starting 2001.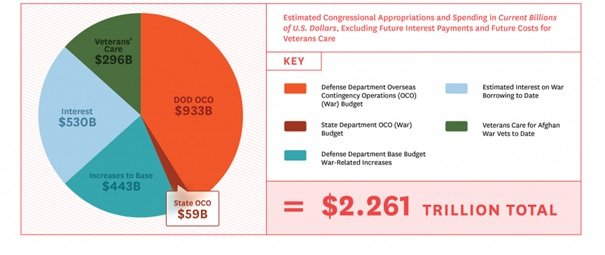 The US removed Taliban from Kabul in October 2001 after the 9/11 attacks and fought the group for nearly 20-years only to sign a so-called peace deal with the Taliban on 29 February 2020 at Doha. Although the US categorically issued disclaimer that it never recognized the Islamic Emirate of Afghanistan, it signed an agreement with the Emirate and with the Taliban, which it continue to fight for two decades. The legitimate elected Government of Afghanistan was kept out of the Doha deal.
Once the deal was signed, Taliban convinced everyone within the Afghanistan that the US had handed over the country to Taliban and it is now futile to fight the group since the US agreed to the demands of the Taliban. Taliban allured Pashtun soldiers within the Afghan government with safe return to their homes and receiving salary. On 20 June, Amir-ul-Momineen Maulavi Hibatullah Akhundzada issued a statement directing his troops to 'treat those who surrender well and display good behaviour with them'. Immediately after the deal, every Afghan, provincial Governors and military commanders were just looking out for themselves.
Meanwhile, the US was rapidly withdrawing its troops and simultaneously the Taliban was reaching out to all the commanders to handover weapons in exchange of money and safe passage. Seasoned Afghan based journalist Kathy Gannon reported that on 5 July 2021, the US left Bagram Airfield after nearly 20 years by shutting off the electricity and slipping away in the night without notifying the base's new Afghan commander. Afghan military officials say they discovered the Americans' departure more than two hours after they left.
Within no time, as province after province surrendered, the Taliban erased 20 years of Afghan military defence in a few months. The strong 307,000 strong Afghan National Defence and Security Forces (ANDSF) with a strong air force and modern military equipment under its command, surrendered before a few thousands Taliban foot soldiers. By 15 August 2021, the Taliban entered Kabul where 4000 strong US troops were still waiting withdrawal.
Unlike 1996, to their own surprise, in 2021, the Taliban gained control of Kabul rather cheaply and effortlessly as the country's governors, commanders and president seen fleeing battlefields in speeding military vehicles and helicopters.
On 26 September 1996, when the Taliban, well equipped with modern weapons and being assisted by Pakistan entered Kabul at 03.00 am, there was little resistance from the Kabul regime. Two days back, on 24 September, Afghan Civil Aviation Minister, Dr. Abdul Rahman arrived at the Indian Embassy Residence and informed then Charge D'Affaires Azad Singh Toor that Ahmed Shah Masood, then Defence Minister and leader of Northern Alliance, decided to retreat to Panjshir Valley in the north as the Kabul regime has chosen to vacate Kabul without a fight. Rehman further informed that 'they would stop the advancement of Taliban towards Kabul until the Indian Embassy was closed'. Next day, Indian Embassy staff were guided to the Bagram airbase where a special Ariana plane was ready to take Indian mission staff to Delhi on 26 September 1996. India lost contact with Kabul although it continued to maintain diplomatic relations with Rabbani's government in exile.
Ahmed Shah Masood sent an emissary to Dr. Najibullah, the former Afghan President who had taken refuge under diplomatic protection at the United Nation premises at Kabul since 16 April 1992. Masood offered refuge to Dr. Najibullah, which the former president declined. Immediately after the entry of Taliban into Kabul on 26 September, they headed towards the UN premises, killed Dr. Najibullah and his younger brother and hanged their bodies at the nearby lamppost. The next target of attacking Taliban force was Indian Embassy. They reached to the Indian Embassy and enquired 'Safir-e-Hind kujaast?' (Where is the Indian Ambassador?). The Afghan servant of the empty embassy answered 'Hind raft' (The Ambassador had left for India). A major catastrophe was avoided. Had the Taliban got a hand on Indian ambassador, his fate would have been the same as that of Najibullah.
The government forces loyal to the President Burhanuddin Rabbani offered little resistance, as they destroyed their ammunition stock before fleeing Kabul while non-Pashtuns (Tajiks, Hazaras and Uzbeks) fled the city fearing genocide. The Taliban used Kabul's public address systems in mosques to announce their capture of the city. Kabul's traffic return to normalcy on 27 September. Taliban capture of Kabul, which started in 1994 ended with unimaginable bloodshed and irreparable damage to its infrastructure.
India could not revive her contact with Kabul until the United States removed the Taliban from power in 2001. Two days after the targeted killings of Ahmed Shah Masood, on 11 September 2001, 19 al Qaeda hijackers flew passenger jets on World Trade Centre and Pentagon – the quintessential symbols of American financial and military power. Code named as 'Operation Enduring Freedom', on 7 October 2001, the US and its partner started campaign against the intransigence Taliban who refused to surrender Osama bin Laden.
On 18 December 2001, with pomp and ceremony, and in considerable drizzle, the American Embassy building in Kabul reopened, which was closed since 31 January 1989. Barely four days later, on 22 December 2001, Hamid Karzai was sworn in as head of an interim power-sharing government in Afghanistan along with a 29-member cabinet in Kabul before 2,000 international dignitaries and Afghan leaders. India's External Affairs Minister Jaswant Singh travelled to Kabul through Dushanbe in the helicopter of deceased Northern Alliance leader Ahmed Shah Masood to reach to the swearing-in ceremony. India renewed her contact with the Government of Afghanistan as most of the cabinet members of the new cabinet were erstwhile Northern Alliance members.
Although India officially opened her office of the Consulate General of India, which was first opened in Herat with effect from 1 September 2002, six doctors and seven paramedics were dispatched to the Indira Gandhi Hospital for Children in November 2001. That was before the war against the Taliban was over and also before Hamid Karzai took over as head of the Interim Administration. A team of doctors and technicians was sent to Kabul on 30 December 2001 to set up a camp for fixing artificial limbs (Jaipur foot) for Afghan amputees. Teams of doctors and paramedics, along with medicines, were sent to Kabul and Mazar-e-Sharif.
Besides the Indian Mission in Kabul, India resumed diplomatic presence with four consulates in Mazar-e-Sharif, Herat, Kandahar and Jalalabad. Immediately after the resumption of formal contact, India contributed abundantly to the reconstruction of Afghanistan by expediting aid programmes and offering training to various segments of Afghanistan. India's Foreign Service Institute organized a special three-month training course for 20 Afghan diplomats from 18 February 2002. Training offered in all other fields including military, scientific, technical, agricultural and education.
Immediately after the restarting of diplomatic relations, the entire Afghan cabinet including Chairman Hamid Karzai made beeline to visit India citing various pretexts. Due to the flurry of all these visits, Delhi earned the sobriquet as 'winter capital of Afghanistan'.
However, everything changed since the Doha deal was signed in between the US and the Taliban and after two decades of experiment in soft-landing of democracy and national reconstruction in Afghanistan, the Taliban returned to rule the country from where they left in 2001.
Starting 2002 upto March 2019, India has committed US$3 billion for the reconstruction, development, education, health, infrastructure capacity building and other such related activities in Afghanistan. All these investments will be reduced to dust as videos shared on Twitter showing how district centre of Anar Dar in Western Farah province is blown up by the Taliban after they captured it on 14 June. Afghan infrastructure, built by India would be the first casualty as the Taliban may not tolerate Indian footprint in Afghan soil.
India has closed its four consulates in Kandahar, Mazar-e-Sharif, Herat and Jalalabad apart from closing its Embassy in Kabul. All the staffers from the consulates and embassy have been evacuated and again India is on the verge of losing contact with Afghanistan.