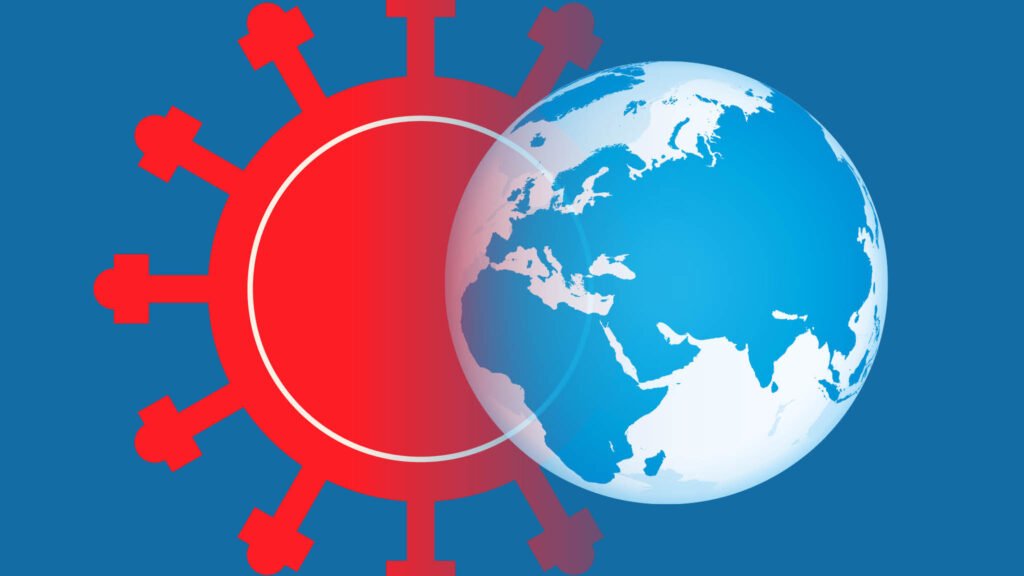 On April 25th 2020 George Floyd uttered those now universally known words: "I can't breathe" shortly before dying from strangulation under the knee of an American police officer. He also unwittingly but powerfully evoked the respiratory illness that has been affecting and killing millions since the end of 2019.
Great natural and social upheavals usually generate powerful intellectual and emotional commotions. In particular massive controversies are triggered by inevitable attempts to understand causes and assign responsibilities. We have seen that sort of disruptive churning process worldwide in the wake of the 9/11 attacks in the USA and we are witnessing another since the beginning of the COVID pandemic more than a year ago.
The COVID pandemic was precisely predicted by writers, pop artists, futurists and analysts. Certain publications have made fairly exhaustive records of such visionary forecasts. Steven Soderbergh's 2011 film 'Contagion' was about a respiratory infection risen in China (Hong Kong) from a bat contaminating a pig and it depicted rather accurately the growing public panic and official disarray until the miracle vaccine had been found. In 2012, one year later, the opening ceremony of the London Summer Olympics included a scene grimly alluding to a Corona virus epidemic and the ensuing devastation.
In a 2013 song, the rocker Dr Creep described a Corona virus epidemic and announced it for 2020, alongwith the riots that were to rage in American cities in that same year.
On 13th October 2015 a 'System and method for testing for COVID-19' was patented in the Netherlands and from 2017 such test kits were exported to a number of nations (as recorded in WITS, under HS Code 300215, prepared by World Customs Organization and World Health Organization). In 2019 The World Bank issued a document for a 'COVID-19 Strategic Preparedness and Response Program (SPRP) under Code ID P173789, to be approved by April 20, 2020, and to cover a period of five years until March 31, 2025. This seems to reflect the high predictive capability of certain algorithms used by the intelligence agencies of great powers and some international organizations connected with them. It is known that certain agencies also use trained and tested remote (future) viewers through classified protocols such as Looking Glass.
On January 10, 2017, Dr Antony Fauci, Director of the Institute for Allergies and Infectious Diseases had made the famous forecast in a speech at Georgetown University: 'In the next two years, there will be a surprise outbreak. There's no doubt in anyone's mind about this.'
On April 27, 2018, Bill Gates with whose Foundation Dr Fauci is closely associated, reiterated this expectation of a global pandemic within the next decade 'like nothing that we have seen before' and said it could kill thirty million people within six months. His now-ex wife Melinda Gates reiterated this prediction, adding that the greatest threat was posed by an 'engineered virus'. This concern was echoed by a number of scientists in the wake of the eruption of COVID-19, including Nobel Prize Laureate in Medicine Luc Montagnier, one of many experts (including Dr Francis Boyle, a leading epidemiologist) who do not believe that this particular edition of the SARS virus family evolved naturally. In the same year 2018, the Institute for Disease Modeling did a simulation exercise for a flu epidemic spreading out from Wuhan in China and making millions of victims.
The Wuhan Bio-Safety Laboratory has in fact been suspected of having created COVID-19 in the process of researching bat-borne viruses for 'gain of function (increasing their lethality) but it must be noted that Dr Fauci was associated with this international research programme to which he contributed substantial funding (more than 3 million Dollars) from his Institute in 2015.
In September 2019 the Global Preparedness Monitoring Board released a report on 'A World At Risk' and warned of a Corona virus pandemic. One paragraph reads: 'The UN (including WHO) conducts at least two system-wide training and simulation exercises, including one for covering the deliberate release of a lethal respiratory pathogen'.
In October 2019, Bill Gates organized an event in New York entitled Event201 under the banner headline: 'We need to prepare for the event that becomes a pandemic'. Shortly afterwards the co-founder of Microsoft who is a big investor in pharmaceutical companies tweeted: "I'm particularly excited about what the next year could mean for one of the best buys in global health: vaccines". All along Gates's assertion is that there will be no return to normalcy on the planet until everyone has been vaccinated and his outspoken preference goes to the new type of experimental immuno-therapy through RNA messenger non-traditional vaccines whose main manufacturers are Pfizer and Moderna. The Pfizer website states: "The Pfizer-BioNTech COVID-19 vaccine has not been approved or licensed by the U.S. Food and Drug Administration (FDA), but has been authorized for emergency use by FDA under an Emergency Use Authorization (EUA) to prevent Coronavirus Disease 2019 (COVID-19) for use in individuals 16 years of age and older. The emergency use of this product is only authorized for the duration of the declaration that circumstances exist justifying the authorization of emergency use of the medical product under Section 564(b)(1) of the FD&C Act unless the declaration is terminated or authorization revoked sooner. Please see EUA Fact Sheet."
Not being a medical professional Gates's viewpoint is primarily commercial but he exercises overwhelming influence on both the US and WHO's health policies. He opposes the waving of patent rights on vaccines on emergency grounds for COVID vaccines which is understandable from his perspective as a major shareholder in the industry.
What does all that tell us? No need to embrace the ominous interpretations of conspirationists but it has to be accepted that many authoritative documents factored in, well in advance, the pandemic to come and prescribed the measures to be taken by governments (universal mask-wearing, mass vaccination, social distancing, closing down of vast sectors of the economy and high-tech monitoring and surveillance of the public through contact tracking, periodic tests etc..).
Furthermore, a permanent state of global emergency was predicted or advocated, – depending upon how we look at it – thereafter. The 2010 Rockefeller Foundation's report Scenario for the Future of Technology and International Development notes as if looking back after an event yet to come: "…Even after the pandemic faded, this more authoritarian control and oversight of citizens and their activities stuck and even intensified… This heightened oversight took many forms: biometric IDs for all citizens…and tighter regulation of key industries…'. In a follow-up publication, the Rockefeller Foundation's National COVID-19 Testing Action Plan' guidelines are given for tracking the population by means of digital IDs and contact tracing software as was implemented in Israel last year.
Every crisis is an opportunity, at least for some and it is unsurprising that preparations were made for a pandemic in order to gain strategic, economic and 'soft' power. Could the world have been better forewarned and preventive measures implemented beforehand? More importantly, can people be kept under the continuous technocratic supervision and monitoring envisaged by some of the powers-that-be? That is the Question.
(Many facts and quotations in this article are from the original sources as quoted and referenced in the Madison Area Lyme Support Group report by Dr James Fetzer dated 30 September 2020.)