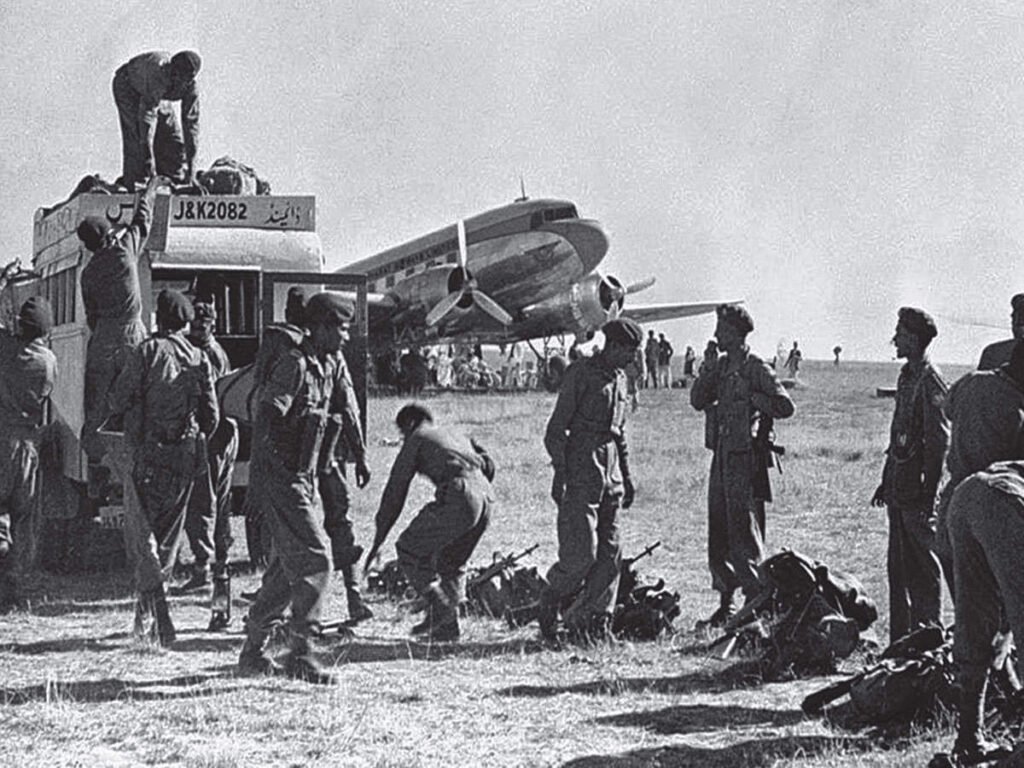 On 27 October 1947, the Dakota aircraft carrying Indian soldiers led by Lt. Col. Dewan Ranjit Rai landed at Srinagar airport in the first war after independence. Upon landing the 1 Sikh troops fought valiantly but Lt. Col. Rai lost his life that very evening while leading his men in action. 34-year-old Lt. Col. Rai was the first Indian Army officer to fight and die in battle after independence.
Lt Col Ranjit Rai, the Commanding Officer of the 1st battalion, The Sikh Regiment (1 Sikh) was posthumously awarded the first Maha Vir Chakra for gallantry. His citation reads as follows:
"As very little time was at his disposal, he personally conducted reconnaissance and operations at such personal risk that he was eventually killed. By his complete disregard for personal danger and his determined and inspired leadership, the raiders were stopped sufficiently far away to enable a build-up for the eventual decisive defeat.
The officer gave his life in a successful endeavour to save Srinagar by displaying the courage of the highest order."
Lt Col Ranjit Rai's sacrifice helped the 161st Infantry Brigade break through the advance of the tribal forces and retake Baramulla and Uri.
One of the most conspicuous acts of bravery during the war was that of a 19-year-old Maqbool Sherwani, who went around on a cycle spreading the message that the Indian Army was advancing towards Baramulla. This information stalled the march of the mercenaries towards Srinagar and literally saved the city. When the Pakistanis realised that Maqbool had misled them, they shot fourteen bullets into his dead body and crucified him but not before the boy had carved a place for himself in the annals of history as "Mujahid Sherwani" or Lion of Baramulla.
Likewise, no narrative of the 1947-48 war will be complete without mentioning the gallant deeds of men like Major Somnath Sharma, Naik Jadunath Singh, L/Nk Karam Singh and CHM Piru Singh who were awarded Param Vir Chakra as well as Brig Rajinder Singh, and Brig Mohd Usman who were awarded the Maha Vir Chakra for their supreme acts of bravery, sacrifice and devotion to duty.
Brigadier Rajinder Singh Jamwal, the Chief of Staff of Jammu and Kashmir State Forces is regarded as the saviour of Kashmir. He and his small contingent of 200 men successfully delayed the advance of the Pakistani tribal raiders near Uri till the Indian army landed in Srinagar. He was posthumously awarded the Maha Vir Chakra, independent India's second-highest military decoration.  
On 13 October 1948 Lance Naik later Honorary Captain Karam Singh of 1 Sikh regiment, became the first living soldier to be awarded Param Vir Chakra – the country's highest gallantry award for his heroic deeds performed despite receiving 16 bullet injuries in the Tithwal sector of Jammu and Kashmir. Capt Karam Singh who had earlier been awarded a military medal for bravery during World War II in the Burma sector while serving in the British Indian army was among the five soldiers selected by Prime Minister Jawaharlal Nehru to hoist the Indian National Flag for the first time after Independence in 1947.
On 31 October, the D Company of the 4th Battalion of Kumaon Regiment was flown into Srinagar under the command of Maj Somnath Sharma, who insisted on leading his men in combat even though his left hand was in plaster because of injuries suffered on the hockey field.
On 3 November, the D Company of the 4th Battalion of the Kumaon Regiment was deployed on patrol duties in the Budgam area. They were surrounded from three sides by about 700 infiltrators and sustained heavy casualties from mortar fire. But despite being outnumbered, Sharma and his men refused to give up and put up a valiant fight – last man, last round. Disregarding his own safety Sharma personally went about distributing ammunition to his men operating the light machine guns and motivating them to fight bravely. Suddenly a mortar shell exploded on a pile of ammunition near him. Maj Somnath Sharma succumbed to his injuries, but not before transmitting a message to his brigade's headquarters which read:
"The enemies are only 50 yards from us. We are heavily outnumbered. We are under devastating fire. I shall not withdraw an inch but will fight to our last man and our last round." — Major Somnath Sharma, Battle of Budgam, 1947
By the time a relief company, from the 1st Battalion of the Kumaon Regiment, reached Budgam, the position held by Sharma's company had been overrun. But the tribal infiltrators too suffered almost 200 casualties and in the process lost their will to fight. This bought time for Indian forces to consolidate their position and block all routes leading towards Srinagar.
Apart from Maj Somnath Sharma, one junior commissioned officer (JCO) and 20 other ranks of D Company of the Kumaon Regiment were killed in action in the battle of Budgam. Sharma's body, disfigured beyond recognition, was recovered three days later and identified by the leather holster of his pistol and pages of Bhagavad Gita in his chest pocket.
On 21 June 1950, Maj Somnath Sharma was posthumously awarded the Param Vir Chakra, for his act of bravery in defending the Srinagar airport on 3 November 1947. This was the first time that Param Vir Chakra – India's highest gallantry award – was awarded since its inception. Coincidentally, Savitri Khanolkar, the mother-in-law of Sharma's brother, was the designer of the Param Vir Chakra.
The official citation reads:
"Keeping his nerve, he skilfully directed the fire of his sections into the ever-advancing enemy. He repeatedly exposed himself to the full fury of enemy fire and laid out cloth strips to guide our aircraft onto their targets in full view of the enemy. Realising that casualties had affected the effectiveness of his light automatics, this officer whose left hand was in plaster, personally commenced filling magazines and issuing them to the light machine gunners. A mortar shell landed right in the middle of the ammunition resulting in an explosion that killed him. Major Sharma's company held on to this position and the remnants withdrew only when almost completely surrounded. His inspiring example resulted in the enemy being delayed for six hours, thus gaining time for our reinforcements to get into position at Hum Hom to stem the tide of the enemy advance. His leadership, gallantry and tenacious defence were such that his men were inspired to fight the enemy by seven to one, six hours after this gallant officer had been killed. He has set an example of courage and qualities seldom equalled in the history of the Indian Army."
On 25 December 1947 Pakistani forces captured Jhangar. Brigadier M Usman the commandant of 50 Para Brigade, nicknamed the Lion of Nowshera swore to recapture Jhangar, strategically located at the junction of Mirpur and Kotli. Such was the fear he inspired that the Pakistani forces are understood to have announced a prize of Rs 50,000 for his head. Finally, his relentless efforts paid off and Jhangar was recaptured but in the process, Usman was martyred on 3 July 1948, by an enemy 25-pounder shell, 12 days short of his 36th birthday. His last words were "I am dying but let not the territory we were fighting for fall for the enemy". He was posthumously awarded the Maha Vir Chakra. He was given a befitting state funeral — attended by Prime Minister Nehru and his Cabinet colleagues. Brig Usman remains "the highest ranking military commander to date" to lay down his life on the battlefield.
On 6th Feb 1948, Naik Jadunath Singh, despite being outnumbered and injured, transformed defeat into a victory and saved his post in the Taindhar sector. Surprised by this daredevilry the enemy fled in disorder but in the exchange of fire two enemy bullets pierced Naik Jadunath Singh's head and chest. Naik Jadunath Singh died but his picket was saved. He was honoured with the "Param Vir Chakra" for his outstanding bravery.
Likewise, Company Havildar Major Piru Singh of 6 RAJ RIF was posthumously awarded the Param Vir Chakra for exhibiting indomitable gallantry and making the supreme sacrifice on 18th July 1948. CHM Piru Singh was tasked to attack and capture an enemy-occupied hill feature at Thithwal in Jammu & Kashmir. As his men advanced, they met with heavy MMG fire and a volley of grenades. More than half of the section were killed or wounded. CHM Piru Singh urged the remaining men to continue fighting and destroyed two MMG positions despite being wounded. He suddenly realized that he was the sole survivor. When the enemy lobbed another grenade at him, he crawled forward with blood dripping from his face and destroyed the enemy's position before breathing his last.
A formal cease-fire was declared at 23:59 on the night of 1 January 1949.  In the war, India lost around 1,100 soldiers and 3,000 were wounded while about 6,000 Pakistani soldiers got killed and 14,000 were wounded.