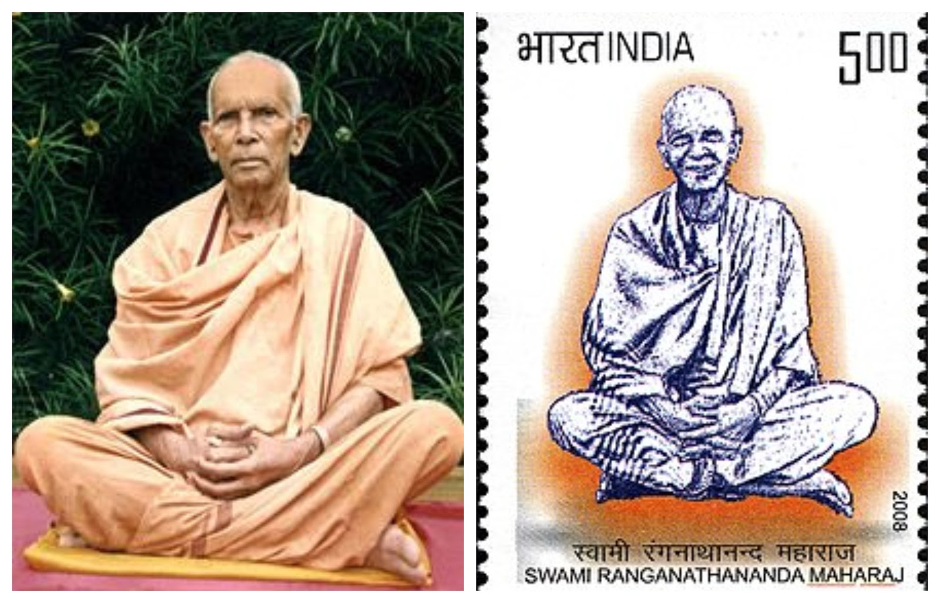 Kerala is called 'God's Own Country' for more than one reason. It is a land of ethereal natural beauty. It is also divine because of the great men and women who tread the land – from Adi Shankara to Sri Narayana Guru to Swami Chinmayananda to Mata Amritananda Mayi Amma. Swami Ranganathananda belonged to that pantheon of great sages and savants.
All great men are born with a mission. They are called Karana Janm – born with a purpose. Swamiji was born as Shankaran Kutty in a village near Thrissur on 15 December 1908. He had said in an interview that as a young man he was like many others of his age, 'good at sporting and swimming', but 'not so good at studies'. He was religious, and often visited temples. He used to dream of realising Shiva.
His life-transforming moment came in the form of a book at the age of 14. The book was 'The Gospel of Sri Ramakrishna', a famous book written by Swami Nikhilananda. It must be providence because it was almost impossible for such a book to land up in the hands of a village lad. Reading the life and message of Sri Ramakrishna Paramahamsa, a mystic from Bengal who inspired many great saints including Swami Vivekananda, touched a profound chord with the young Shankaran Kutty and led to an inner revolution. It was like the 'bursting of a bombshell within the mind', Swamiji tells of that experience.
At 17, Shankaran Kutty decided to join the Ramakrishna order and landed up at the Ramakrishna Mission in Mysuru in 1926. His initial duties at the Mysuru Ashram included washing utensils and cleaning up the place. In a few years' time, he was given Deeksha – formal initiation into the Order in 1933 by Swami Shivananda, who was a direct disciple of Sri Ramakrishna. Thus was born the great scholar-teacher Swami Ranganathananda, who served the Mission for 72 years and rose to become its President, until he attained Maha Samadhi on 25 April 2005.
I had the great fortune of interacting with him briefly when he was heading the Mission in Hyderabad during the 1970s and 80s. He was a great scholar and teacher. He was a widely travelled monk. Like revered Adi Shankara, this monk from Kerala too traversed across the length and breadth of Bharat. He established the mission in Rangoon in Burma and headed it at Karachi in Pakistan, worked in Bengaluru and Hyderabad before finally settling down at the Belur Math in Bengal.
Swami Ranganathanandaji was one of the greatest teachers of Vedanta during his time. Incidentally, the other great Vedanta scholar of that period was also from Kerala – Swami Chinmayananda. The two monks have been instrumental in carrying the message of Sanatana Dharma and Bhagavad Gita into the lives and homes of the upper echelons of the society, usually westernised and disconnected from our Dharma. Swami Ranganathanandaji authored a number of books, most important of them being the ones like 'Eternal Values for a Changing Society' and 'Science and Religion'.
In his book "The Charm and the Power of the Gita" Swamiji gives a man-making and nation-building orientation to the Gita. He says "In the past, people mostly read the Gita as a pious act, and for peace of mind. We never realized that this is a book of intense practicality. We never understood the practical application of Gita's teachings. If we had done so, we would not have had the thousand years of foreign invasions, internal caste conflicts, feudal oppression and mass poverty. We never took the Gita seriously, but now we have to. We need a philosophy that can help us build a new welfare society, based on human dignity, freedom and equality. This new orientation, this practical orientation was given to the Gita for the first time in the modern age by Swami Vivekananda'.
Swamiji became the Vice President of the Ramakrishna Mission in 1988 and its 14th President in 1998. In the last more than a century, the Mission has done yeomanly service to mankind by way of both spiritual education as well as social service. It runs countless schools, hospitals and temples across the world. It serves the poor and the underprivileged in India's remotest corners like the North East of India through countless charitable activities.
The Ramakrishna Mission was established by Swami Vivekananda in 1897 with the motto of 'Atmano Mokshaartham – Jagat Hitaya cha' meaning 'For self-evolution and universal well-being'. Thousands of learned saintly monks man the Mission even today with this singular objective.
There was an unpalatable phase in the Mission's history during the 1980s. When a Marxist Government in West Bengal tried to take control of an institution run by the Mission using some staff protests as an excuse, the Mission leadership took an unusual step of approaching the courts with a plea that they were not a Hindu institution and hence ought to be granted minority status. Although it was initially seen as a tactical retreat to protect the institution from falling into the hands of the Marxist government, matters deteriorated as the case progressed. Lawyers representing the Mission went to the extent of claiming that even Swami Vivekananda had discarded Hinduism towards the end of his life, and hence the Mission may no longer be treated as a Hindu charity.
The Mission's arguments found favour with the Kolkata HC but created a deep schism among the disciples and well-wishers. Finally, matters came to rest when the Supreme Court bench headed by Js. M N Venkatachalaiah disapproved of the Mission's argument and declared on July 2, 1995, that neither Sri Ramakrishna nor Swami Vivekananda had founded an independent, non-Hindu religion. It was during this phase of turbulence that Swami Ranganathananda had to steer the Mission, which he did with commendable maturity.
Swamiji's emphasis was on Dharma, which he interpreted as eternal moral and ethical values for the society. He saw in it the core binding force of the society. He detested the usage of Dharma Nirapekshta for secularism in India. 'How can any nation progress without Dharma', he would question. It should be Mata Nirapekshta instead, he used to insist.
Swamiji lived a life of self-effacement. The message he imbibed in early childhood from Sri Ramakrishna's life – 'God in Man' – remained his guiding principle for life. Swamiji never aspired to any recognition for himself. He was chosen by the Indian government for the Padma Vibhushan award in 2000. He declined it as it was conferred on him in his individual capacity and not for the Mission. He, however, accepted the Indira Gandhi Award for National Integration in 1987 and the Gandhi Peace Prize in February 1999 as both were conferred on the Ramakrishna Mission.
On his birth anniversary, I pay my humble homage to the noble soul.