It is well perceived that yoga entered Vietnam along with Buddhism and developed parallelly with the Vietnamese traditional martial arts, carried across the geography by monks and masters. Yoga was long seen as a type of nourishing physical exercise for the elderly or an additional practice in movement treatment. However, in the last 10 years, Viet Nam has witnessed a boom in the number of Yoga practitioners and overwhelming participation from younger groups, especially young females. Yoga is also attracting greater participation from Vietnamese men in the last 5 years.
Starting from the two biggest cities, Hanoi and Ho Chi Minh city, Yoga has now spread to smaller cities with numerous studios opening every year. There are yoga teacher training courses held monthly for Vietnamese and special courses for foreigners in Vietnam. Some of them are organized under the guidance of the Vietnam Sports Administration, a governmental agency. Others are organized by independent organizations, which are associated with Yoga Alliance. As per the government estimates, the number of Vietnamese yoga instructors is well over 400. Some of them obtain training in India at their own cost under Yoga gurus and some under the ITEC (Indian Technical and Economic Cooperation) scholarships offered by the Indian Government. Vietnamese delegations now successfully take part in international yoga competitions, workshops, conferences, and other yoga-related activities. Vietnamese yogis have won high prizes in international yoga competitions such as the 2017 Asia Yoga Contest (Singapore) and the 2019 International Yoga Contest (Korea).
Vietnam Yoga Federation (VYF) was established in 2016 and was recognized by the Ministry of Home Affairs as well as the Ministry of Culture, Sports and Tourism in Vietnam. Since its foundation, VYF has organized various activities for Yoga communities in Vietnam including regular meetings, Yoga Days, and annual national competitions. The first national competition was held in 2017 and the latest one, the National Yoga Championship in Dong Nai was held in December 2020. There are also competitions for teenagers in 2018 and 2019 to encourage the young to practice Yoga.
The most popular styles of Yoga in Vietnam are Hatha, Vinyasa and Ashtanga. Some new forms of Yoga such as Yin Yoga and Aerial Yoga are also proving their attractiveness. Yin Yoga integrates the principles of Hatha Yoga and Qigong (Chinese practice of coordinated body posture and movement, breathing, and meditation) based on the Taoist concept of yin-yang. Yin Yoga focuses on connective tissues (ligaments and tendons) rather than muscles. It does not focus on warming up muscles or moving quickly but encouragex`s relaxed poses, which are relatively passive and often performed with props. Each pose can be held for five minutes or more. Yin Yoga is especially loved by office workers in Vietnam, who suffer from bad posture ache.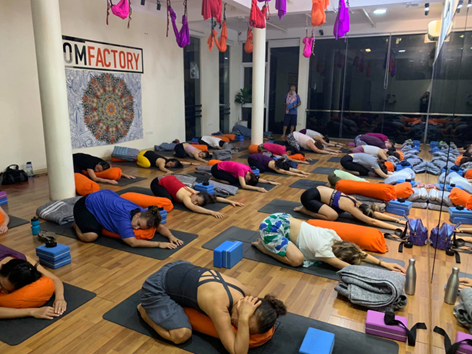 In Aerial Yoga, practitioners hop into a silky sling-like hammock, which supports one's full body weight. Practitioners are expected to manoeuvre the fabric to hold poses, perform tricks or use it as a TRX (Total Body Resistance Exercise) suspension trainer to support one's feet for exercises like push-ups or palms for triceps dips. The hook of Aerial Yoga seems to be the combination of health benefits and artistic experiences because it is often combined with music to form dance flows.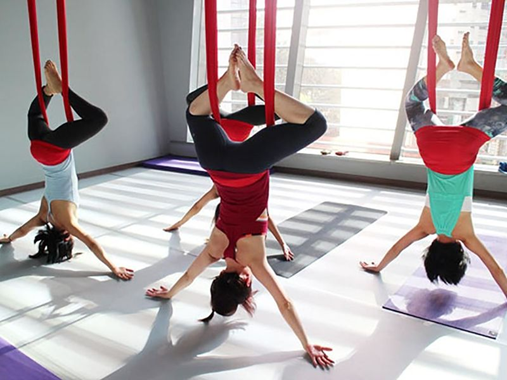 Vietnam has celebrated International Yoga Day on June 21st since 2015. In 2020, Yoga International Day was celebrated with a series of activities all over the country, in which the highlight was Yoga Day in Ha Long Bay, one of the most famous UNESCO natural heritage sites in Vietnam (pic below). This year, due to the Covid-19 situation, activities are being organized online.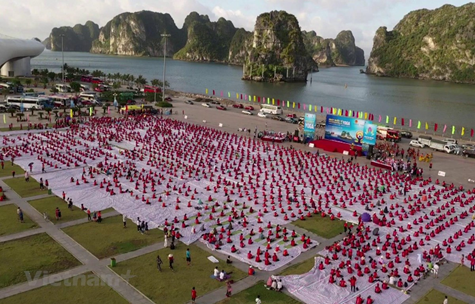 Thanks to Yoga, there are tremendous cooperation opportunities between India and Vietnam. It is noticeable that Vietnam receives around one hundred Indian Yoga instructors annually. Meanwhile, there is an increasing number of Vietnamese yogis looking for Yoga camps, retreats, and teacher training courses in India. For further cooperation, an idea to be explored can be a joint bachelor/master's degree program in Yoga offered by universities of the two countries as there are no such programs in Vietnam currently. The Government of India must encourage India, as a travel destination for Vietnamese outbound tourists offering a variety of Yoga trails in different parts of the country. Yoga as a medium for spiritual and physical evolution must become the binding thread for these two cultures.