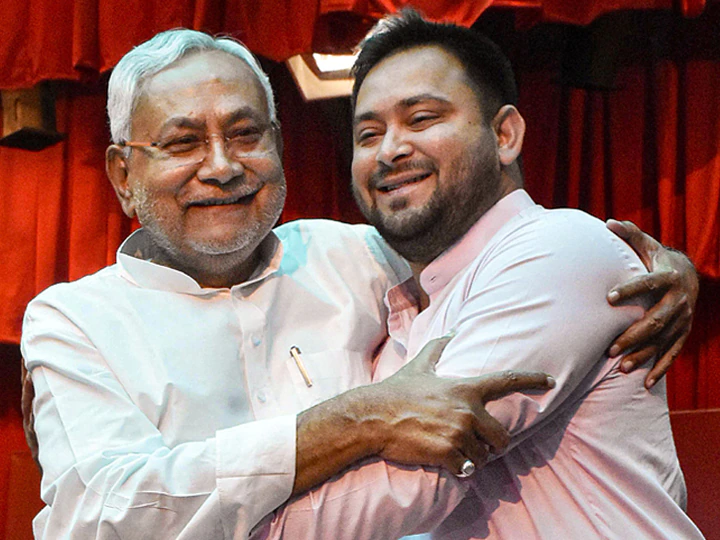 Mahagathbandhan 2.0 is proving to be the proverbial millstone around Bihar chief minister Nitish Kumar's neck, threatening to end his long political career in ignominy. Since the Janata Dal (United) resurrected the alliance with the Rashtriya Janata Dal in August 2022, hardly a week or fortnight has passed without some serious issue of law and order, or maladministration, surfacing, many in the capital itself.
Fears of the return of 'jungle raj' that was the hallmark of the 15-year RJD rule, returned within twenty-four hours of the formation of JD(U)-RJD coalition government on August 10, 2022. In a chilling and gruesome murder, Rudal Sah, priest of the Ram Janki temple in Bakulhar village, Bettiah district, was beheaded and his severed head taken to the Pipra Kali temple two miles away, on August 11, 2022. The pujari always slept in the temple at night, and though he had shut the doors and gates, the killers scaled the wall of the temple and killed him. Rudal Sah was deaf and mute; he is survived by two sons and a daughter.
In the same twenty-four hours, a Toyota showroom in Patna was looted of Rs nine lakh and a guard killed, while another guard was beaten up and his hands and feet tied up. A businessman's house was burgled and Rs 50 lakh taken, a gold trader was kidnapped in Gopalganj district, and journalist Gokul Yadav of Prabhat Khabar was shot dead by five persons who arrived on motorcycles, in Simultala block, Jamui district.
The killing appeared to be a professional hit-job, ostensibly caused by animosity over the Panchayat elections. Gokul Yadav's wife had contested from Khuranda Panchayat but lost, triggering several disputes in the village. Gokul Yadav was attacked a few days before his murder. He was on his way to the market to buy pesticide for the family's corn farm when he was killed.
On August 14, a woman was beaten after being partially disrobed in Parsauni panchayat, Sitamarhi district. On August 17, a vegetable vendor's 15-year-old daughter was shot in the neck, in Patna. On August 18, army jawan, Bablu Kumar, was shot dead by two men on a motorcycle, in an attempted robbery, at 3 am near Chiraiyatand bridge in Patna. Kumar was on his way to board the Rajdhani Express to Guwahati.
The elevation of first-time RJD MLC, Kartikeya Singh, as Law Minister, triggered a controversy. A Danapur court had issued an arrest warrant against him on July 16, for his alleged role in a kidnapping case of 2014. He is close to Mokama strongman, Anant Singh. Stating that Kartikeya Singh should have surrendered to the court, BJP leader Sushil Kumar Modi asked, "I ask Nitish, is he trying to take Bihar back to Lalu's times? Kartikeya Singh should be immediately dismissed."
On August 19, former chief minister Lalu Yadav's son-in-law, Shailendra Kumar, raised eyebrows by attending an official meeting called by minister Tej Pratap Yadav, his wife's brother. The incident, among others, compelled deputy chief minister Tejaswi Yadav to issue a code of conduct for RJD ministers. Yadav directed the new ministers not to buy new cars and restrain visitors from touching their feet. He urged that greetings be exchanged with namaste or aadab, and ministers conduct themselves with dignity and humility, prioritising service to the poor, regardless of religion or caste. Keen to project a more sober image, Yadav urged party leaders to promote the exchange of books or pens rather than bouquets. He warned partymen not to gloat over being the bigger partner in the coalition, and to focus on action governed by probity and transparency.
But it was easier said than done. On August 22, dozens of youths seeking jobs as teachers were lathi-charged at Dak Bungalow Chowraha in Patna. The government did not apologise or provide employment to aspirants. The same day, in Nalanda district, a scheduled caste woman was teased by anti-social elements and her family members were roughed up for protesting, while police remained mute spectators.
On September 13, four men on two motorcycles went on the rampage and shot at people in crowded places in the Begusarai district, killing one and critically injuring eleven persons. Police arrested all four and said the men were psychopaths and there was no motive behind the shooting.
On September 14, the administrator of a hospital in Patna was abducted; a ransom of Rs 10 lakh was demanded. On September 15, silk trader Mohammad Afzal was shot dead in Nathnagar, Bhagalpur district, while returning home. The assailants came with the intention to murder him and fired several shots, of which four hit him. On September 24, a 15-year-old schoolboy, Aditya Tiwari, was murdered by three students for resisting their misbehaviour with girls in the school.
On October 16, passengers of the Delhi-Kolkata Duronto Express were robbed at gunpoint near Patna by a 35-member gang. East Central Railway authorities said the gang raided at least five coaches of Duronto Express when the train was between Patna and Bakhtiyarpur stations in Bihar. They seized ladies' purses, mangalsutra and other valuables.
On November 25, 2022, thieves dug a tunnel to the railway yard in Begusarai district and stole a complete diesel engine, part by part. Then, in a daring act of daylight robbery, a gang posing as officials of a mobile company, stole an entire mobile tower worth Rs 19 lakh by telling farmer Lallan Singh, on whose terrace it was installed, that the company was removing the tower as it was incurring huge losses. Around 25 persons worked with gas cutters for three days to remove the tower. The incident came to light on November 28.
The sand mafia operated with impunity in Patna and Vaishali districts, illegally mining sand from the Ganga and transporting the same by boats and trucks.
Crime has been unabated in the state. On December 13, a woman from Vaishali district was abducted by five men and raped for a month in Delhi before being returned to the district.
In a more serious instance of maladministration, a 206-metre-long bridge over Burhi Gandak river in Begusarai district developed cracks and snapped two hours before its official inauguration, with a section falling into the river, on December 19, 2022. Fortunately, no one was injured in the mishap.
The five-year-old bridge, constructed at a cost of ₹13 crore, could not be inaugurated earlier due to the lack of an access road. It was built under the Chief Minister National Bank for Agriculture and Rural Development (NABARD) scheme (2016-17), and was among a series of bridge failures in recent months. Previously, in November 2022, an under-construction bridge in CM Nitish Kumar's Nalanda district collapsed, killing one labourer and injuring another.
Meanwhile, the Chhapra hooch tragedy toll has crossed 70, with the opposition accusing the government of hiding the true figures, even as it claimed that families are cremating their dead quietly, for fear of police action. Amidst charges that the prohibition policy introduced in April 2016 is a complete failure and has given rise to the illegal hooch trade, chief minister Nitish Kumar remains adamant that no compensation would be given to the families of the victims.
In just six months, the sheen seems to be coming off Nitish Kumar's image as susashan babu (governance by rules). The harsh temper and lack of empathy towards hooch victims and their families in the Vidhan Sabha would have rattled the staunchest allies. The BJP's victory in the Kurhani assembly by-election could prove a trigger for wider political changes.
RJD leaders were quick to demand that Nitish Kumar step down and allow Tejaswi Yadav to lead the coalition. For the present, Nitish Kumar has deflected the challenge by stating that the RJD leader is the future leader of the alliance. But it is only a matter of time before the RJD sees the alliance as a drag on its own prospects in 2024.