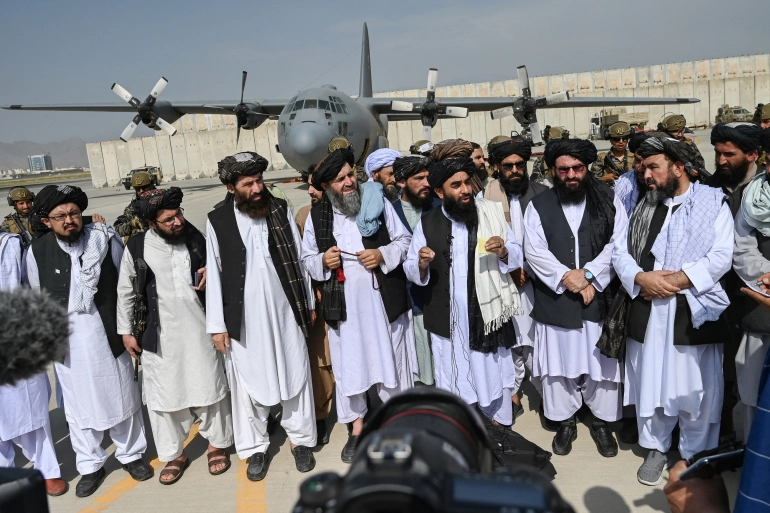 It is easy to overthrow a decrepit regime after its external military backer withdraws, but far more difficult to install a viable and durable alternative. This lesson in realpolitik was driven home on September 11, 2021 when the fledgling Taliban regime was forced to cancel official celebrations of the swearing-in of its 'interim' cabinet after Russia firmly refused to attend the function.
Instead, Prime Minister Mullah M. Hassan Akhund raised the Taliban white flag over the presidential palace to officially inaugurate the new regime, even as the United States observed the 20th anniversary of the September 11, 2001 attacks on American soil. This had led President George Bush Jr. to attack the Taliban regime and to America's twenty-year occupation of Afghanistan, which ended in chaotic retreat in August 2021.
Iran was the first to rule out recognising the Taliban regime and to condemn the military action against the resistance forces in Panjshir. Tehran thus scuttled the Emirates' hopes of access to Chabahar port and the Arabian Sea, and forced other countries to be cautious in dealing with Kabul. Turkey, a possible ally, is unhappy at the exclusion of Turkmen in the government.
The presumed pro-Taliban axis of Iran-China-Russia thus fell apart even before the new government could take over. All three nations have different geo-strategic interests and most likely did not approve of the coup in Afghanistan.
Moscow's principal concern is to control the spread of jihad to the Central Asian states on its border. Indeed, as Taliban victory became inevitable, the leaders of Tajikistan, Uzbekistan and Kirgizstan rushed to Moscow for consultations (read protection). There is a danger that Taliban local commanders could export terror if dissatisfied with the power-sharing in Kabul. Uzbekistan had successfully expelled the Islamic Movement of Uzbekistan (IMU) from its territory, and fears its return. Moscow will position itself behind the United Nations for collective action, should the need arise.
Much depends on Tajikistan, which involves tacit Russian approval. Dushanbe refused to recognise the Taliban government despite a visit from the Pakistan Foreign Minister (August 25). Amidst conflicting reports about Northern Alliance leaders taking refuge to Tajikistan, the region bears watching. India has a base in Tajikistan, and America is keen to build check posts on the Tajik-Uzbek-Afghan border, but so far nothing has been finalised.
The East Turkestan Islamic Movement (ETIM), a 70-year-old body struggling for the independence of China's Xinjiang province, has been revitalised by the Taliban victory. This creates instability for Beijing, unsettling its plans to extend the Belt and Road Initiative (BRI) to Afghanistan and Iran's Chabahar port. China is stunned as it expected something else after Mullah Baradar visited Beijing (July 28, 2021). It has cautiously offered modest aid of around $30 million.
It is difficult to say why the Taliban opted for an all-male, hardliner-dominated government after promising an "inclusive" one, even meeting members of the ousted Ashraf Ghani regime. This has made it difficult for it to receive international recognition or access to Afghanistan's assets frozen by the United States, or foreign aid. Some hint at a Pakistan hand via ISI chief, Lt. Gen. Faiz Hameed, who arrived in Kabul amidst reports of factional disputes; finally, a 33-member government was announced on September 7, 2021 with Taliban chief, Haibatullah Akhundzada, as Amir of the Islamic Emirate. The deposed Afghan Republic condemned the cabinet as "illegitimate and unjustifiable".
The cabinet includes 17 UN-sanctioned terrorists. The Prime Minister is Mullah Hassan Akhund, head of the powerful Rehbari Shura, who as foreign minister in 1999 refused to surrender Osama bin Laden to Washington, and ordered the destruction of the Bamiyan Buddhas. Taliban co-founder Abdul Ghani Baradar is his deputy and Mullah Abdus Salam is the second deputy Prime Minister.
Mullah Yaqoob, son of Taliban founder Mullah Omar, is the Defence Minister. The interior minister is Sirajuddin Haqqani, leader of the Haqqani Network, who was behind the terror attack on the Indian Embassy in Kabul in 2008 and the attacks against Indians and Indian interests in 2009 and 2010. The cabinet includes three other members of the Haqqani clan (Abdul Baqi Haqqani, Najibullah Haqqani and Khalilurahman Haqqani). Key Doha negotiation Amir Khan Muttaqi is the foreign minister; Abbas Stanekzai is his deputy.
The cabinet includes four Guantanamo detainees that America exchanged for US soldier Bowe Bergdahl in 2014, namely, Khairullah Khairkhah, Fazel Mazlum, Abdul Haq Wasiq and Noorullah Nouri. Minorities got a raw deal with the Tajik receiving two posts (Qari Fasihuddin and Qari Din Muhammad Hanif) and the Uzbek one (Molvi Abdul Salam Hanafi). All three are Taliban stalwarts.
There was no representation for Shi'a Hazaras, Turkmen (Turkish speakers), and women. Indeed, the Ministry of Women's Affairs was replaced by the Ministry of Promotion of Virtue and Prevention of Vice; it will enforce sharia, dress code and gender segregation. The Taliban has already used violence against women demanding equal rights in various cities, and banned women's sports. On September 11, it sponsored heavily veiled women to march outside Kabul University with placards saying "the women who left don't represent us," and "We don't want co-education".
The cabinet excluded Iran-friendly Sadr Ibrahim and Mullah Abdul Qayyum Zakir, who were named in the interim government announced on August 25, 2021; this could cause future instability. Another notable omission is the pro-Pakistan Maulvi Abdul Kabir. The Haqqani domination has upset Sadr Ibrahim, a senior military commander and associate of the late Akhtar Muhammad Mansur, whose followers have been excluded from the cabinet. Only Gul Agha was made finance minister after shifting allegiance to Mullah Yaqoob, son of Mullah Omar.
As the regime's isolation grows, UN Secretary-General Antonio Guterres urged the international community to extend humanitarian aid and prevent an economic meltdown of Afghanistan, adding that further instability would be a "gift for terrorist groups" still operating there. He said the International Monetary Fund (IMF) must agree on waivers or mechanisms to get money into Afghanistan; currently the IMF has blocked the Taliban from accessing some $440 million in new emergency reserves. The UN special envoy on Afghanistan, Deborah Lyons, warned that freezing Afghan assets to keep them out of Taliban hands would aggravate economic and social problems.
The resurrection of the Emirate has shocked New Delhi that fears trouble in the Union Territory of Jammu and Kashmir. Columnist Gordon Chang reveals that Indian intelligence had helped expose an Afghan ring of Chinese spies working with the Haqqani Network, which the Trump administration believed had offered cash to kill American troops within the country. Further, Beijing can be expected to flex muscles vis-à-vis Taiwan and India.
Russian Security Council Secretary Gen. Nikolay Patrushev arrived in New Delhi on September 8 to confer with Prime Minister Narendra Modi, NSA Ajit Doval and External Affairs Minister S. Jaishankar. Patrushev discussed the BRICS (Sept 9) and SCO summits (Sept 16, via video conference), and conveyed Russia's concerns regarding Islamic State and East Turkistan Islamic Movement that threaten the security of Central Asian nations and by extension, Russia. Both sides also discussed expanding trade and economic cooperation.
CIA chief William Burns also arrived on September 8 and also visited Islamabad. Burns discussed the Quad meeting (Sept 24, that Modi plans to attend in person in Washington). Washington and New Delhi share concerns regarding the evacuation of nationals and allies. Previously, British MI6 chief, Richard Moore, visited the capital.
Meanwhile, the Taliban regime may have begun to push back against its benefactor, Pakistan, by showing interest in the disputed Durand Line. Should this happen, Pakistan's much-coveted strategic depth in Afghanistan could turn into a short-lived mirage. However, given its internal and external conflicts and contradictions, the more pertinent question could well be about the longevity of the Taliban regime.