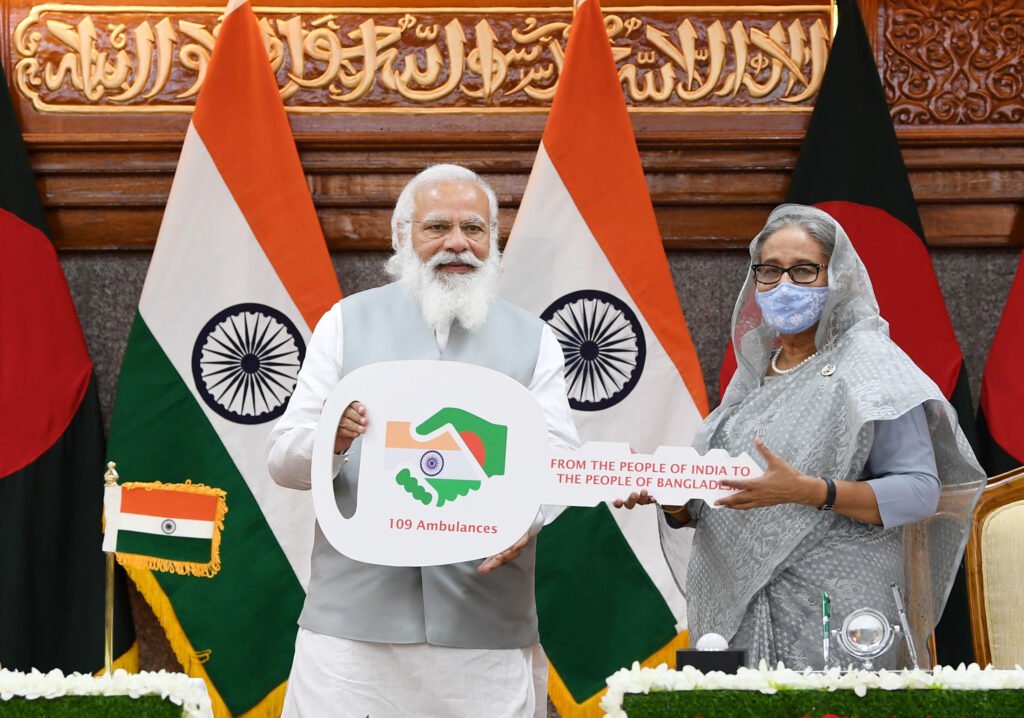 Prime Minister Narendra Modi's recently concluded visit to Bangladesh had a three-fold significance. First, it commemorated the Liberation war of 1971, when Bangladesh broke free from the genocidal rule of Pakistan and emerged as an independent nation. Second, it celebrated the birth centenary of Bangabandhu Sheikh Mujibur Rahman. Third, it marked the 50th anniversary of the establishment of diplomatic relations between India and Bangladesh. The visit marks yet another milestone in India-Bangladesh ties, and serves as an opportune moment to take stock of the bilateral relationship and explore the way forward.
Bilateral relations under Modi and Hasina
Under the leadership of Prime Minister Narendra Modi and Prime Minister Sheikh Hasina, relations between the two countries have grown from strength to strength. They have been particularly characterised by robust diplomacy at the highest levels. This has been illustrated on multiple occasions, be it PM Modi's famous 2015 visit to Bangladesh, or the multiple visits of PM Hasina to India that followed. The recent visit of PM Modi is, therefore, yet another landmark in this trajectory.
The two countries have signed on several projects over the past few years, spanning across infrastructure, energy, connectivity, among others. They have also settled some long pending issues and disagreements, such as the maritime dispute over territorial waters in the Bay of Bengal. In 2015, when the UN tribunal that was considering this case ruled in favour of Bangladesh, giving it control of 4/5th of the disputed area, India did not contest it and wholeheartedly accepted the verdict.
However, the biggest achievement in the bilateral relationship has been the conclusion of the Land Boundary Agreement in 2015, a matter that was held up for over four decades. Even in this case, India demonstrated its magnanimity as it ceded more territory to Bangladesh than it got in return, as part of the process of exchange of enclaves. This created a genuine sense of trust and good will for India inside Bangladesh, particularly among its political elites.
For India, PM Hasina has been an extremely reliable partner, who has been committed to not only economic development and connectivity, but also to countering terrorism and preventing anti-India insurgent groups from operating on Bangladeshi soil. Moreover, her government has diplomatically supported India on several occasions, especially when New Delhi has raised issues of terrorism emanating out of Pakistan.
The bilateral relationship has had its share of challenges too, but they have been met with admirable maturity of the political leadership on both sides. India's Citizenship Amendment Act, which legally recognises the persecution that religious minorities face in Bangladesh, was never allowed to derail the diplomatic relationship, notwithstanding efforts to the contrary by Islamist lobbies across the subcontinent.
Meanwhile, even though China's economic footprint in Bangladesh has been increasing, the political leadership in Dhaka has gone to considerable lengths in reassuring New Delhi that India's security interests will not be undermined at any cost. Bangladeshi nationalists also appear to be resisting Beijing's efforts to bring Pakistan and Bangladesh closer. There is, therefore, much to cheer about the recent meeting of the two Prime Ministers, where they scripted history once again.
Another milestone crossed
The latest visit of PM Modi served as an important reminder of the historical, civilisational, strategic, economic and even ecological factors that underpin the India-Bangladesh relationship. By unveiling the foundation stone for a memorial dedicated to Indian soldiers who fought in the liberation war, as well as announcing the decision to celebrate December 6 as 'Maitri Diwas', the two countries sought to further cement the 1971 shared legacy. The joint commemoration of Mujibur Rahman's birth centenary—including the conferring of the Gandhi peace prize on him—also reflected the same spirit.
PM Modi's visits to the Jashoreshwari Kali temple, one of the 51 Shakti Peeths, and the Orakandi temple, abode of the Hindu Matua community, meanwhile, underscored the civilisational connect.
India and Bangladesh concluded five MoUs during the visit, associated with disaster response, trade, education and training, sports facilities, and national cadet corps. The Prime Ministers inaugurated several projects including new rail lines, roadways and border haats among others. A new passenger train service between Dhaka and New Jalpaiguri was launched, with both sides vowing to restore pre-1965 rail connectivity.
The joint statement released following the visit covered many areas. It reviewed progress of various infrastructure and connectivity projects currently underway, and also presented an outlook for future initiatives. Besides the domains of present cooperation, the conspicuously long statement also included each side's standalone concerns—ranging from river water sharing to custom duties—reflecting a frank and comprehensive dialogue. Overall, the statement encapsulated the remarkably positive mood of current diplomatic ties, as reflected by its characterisation of the bilateral relationship as one that's based on deep "fraternal ties" and an understanding that "transcends even a strategic partnership."
The Islamist Challenge
PM Modi's visit has ensured that the five decades of India-Bangladesh ties have culminated on an exceptionally encouraging note. However, there are brewing challenges for New Delhi and Dhaka in the years to come—in particular, the increasing Islamisation inside Bangladesh. Even though the ruling Awami League government is ideologically opposed to the Islamists, it has failed to rein in their activities in recent years. Islamist groups have yielded much influence on the Bangladesh's polity and society, despite not being directly in power. They have increasingly attacked the Hindu minority, desecrated Hindu temples, murdered bloggers, and vandalised statues of historical figures including Mujibur Rahman's. The Bangladeshi government has dragged its feet in cracking down against the Islamists, and on some occasions has been found to even appease them.
The recent violent protests that accompanied and followed PM Modi's visit, therefore, can be seen in this wider context. The abominable rampage, which specifically targeted Hindu temples, reflects the disturbing side of affairs in Bangladesh that cannot be ignored. Neither New Delhi nor Dhaka can afford to take the threat of Islamism lightly. Contrary to popular diplomatic rhetoric, economic development won't simply wish away this challenge. If left unchecked, Islamism would engulf Bangladesh in a cycle of violence and extremism that will halt its own economic growth, besides severely undermining India's security.
Looking ahead
Going forward, India should prioritise the following in its relationship with Bangladesh.
Continue our close cooperation over economic and security issues. In particular, India must broaden trade ties, continue to improve connectivity, expand the energy partnership, and strengthen cooperation in military affairs and counter terrorism.
Implement Government of India's commitments well in time, especially those related to infrastructure projects, so that we walk the talk. Indian bureaucracy must not be allowed to wreck the vision of the political leadership. This becomes particularly important in light of the growing Chinese presence in our neighbourhood.
We must identify opportunities presented by the 'blue economy' of the Bay of Bengal. At the same time, it is imperative that we guard against over exploitation of the fragile ecology of the region.
Environment and climate change related challenges in the region are set to exacerbate in the coming years. It will, thus, be critical for both countries to cooperate on mitigation strategies and disaster response.
Maintain engagement over potentially sensitive issues, such as the National Register of Citizens (NRC). We must clearly articulate our concerns regarding illegal migration from Bangladesh and seek cooperation from Dhaka over the matter.
Explore ways of jointly countering the growing Islamist challenge. The current state of bilateral relations, which are stronger than ever, provide an environment for open and frank dialogue. The two countries must chalk out long term strategies and invest in an ideological response that can help serve as an antidote to Islamist radicalisation.
Finally, we must speak up for the safety of minorities within Bangladesh, particularly the Hindus. Not only is India the sole supporting voice that speaks for them, it is also our civilizational duty to do so.