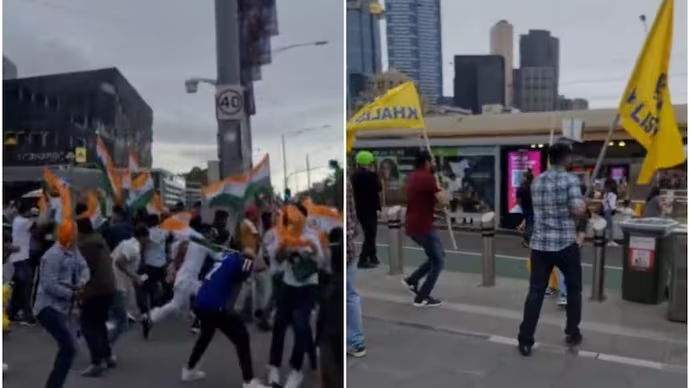 The so-called referendum for an independent Khalistan spread to a third Western nation after Canada and the United Kingdom, and led to clashes with nationalist Indians waving the Tricolour at Federation Square in Melbourne, venue of the event, on Sunday, January 29, 2023. While the "referendum" has no legal or official status in any country, it is perturbing that friendly Western nations have permitted the US-based secessionist group Sikhs For Justice (SFJ) to conduct referendums that aim to create a separate nation for Sikhs in the Indian state of Punjab.
It is telling that none of the plans for Khalistan include the undivided state of Punjab in 1947. Indeed, from the time that Pakistan's Inter-Services Intelligence (ISI) began promoting Khalistan in reaction to the 1971 war for the liberation of East Pakistan (Bangladesh), its protagonists have never dared to include Pakistani Punjab in their goal of an independent Khalistan.
Canada, the United Kingdom and Australia are members of the G20 group being chaired by India in 2023. Australia is also a member of the Indo-Pacific Quadrilateral Dialogue (Quad) with India, Japan and the United States, that hopes to balance the rising assertion of China in the Indo-Pacific. While Khalistan has no deep resonance in India, there are ongoing attempts to revive the dead movement in Punjab; hence, the permission by friendly nations to SJF to needle India is unpleasant.
Videos posted by Australian Hindu Media on Twitter showed a group carrying rods and trying to hit those carrying the Indian flag, before police intervened and brought the situation under control. However, five persons were injured in the confrontation and admitted to hospitals; two persons were arrested by Victoria Police. What is disturbing is that pro-Khalistan slogans recently appeared in graffiti on the walls of certain areas in Delhi, and posters of Jarnail Singh Bhindranwale have become fairly common on cars in Punjab.
Pro-Khalistan elements first showed their presence in Australia in February 2022, when a Hindu-Sikh couple from Adelaide was threatened by Khalsa Aid's South Australia coordinator Gurinder Jit Singh Jassar, for organising an open-to-all Vaisakhi Mela (The Australia Today, 31 March 2022).
Harmeet Kaur and Rajesh Thakur, organisers of the Punjabi Aussie Association of South Australia, were threatened with physical harm, destruction of their business and community boycott. Thakur told the media that Jassar telephoned him and demanded that he change the name of his function because "Vaisakhi belongs to us (Sikhs)" and became aggressive after he (Thakur) refused. Jassar then took the fight to social media
(https://www.facebook.com/749313763/videos/514885516654287/)
Thereafter, journalist Robbie Benipal, Editor of Raabta Radio, was targetted for allowing Harmeet Kaur to present their side of the story on his platform. This was followed by threats of violence to the couple's friends, if they dared to attend the mela.
It is well-known that Vaisakhi is an ancient harvest festival in North India, and was chosen by Guru Gobind Singh to establish the Khalsa in 1699. It is not exclusive to the Sikh community, and Sikhs like Amrik Singh Thandi of the Sikh Society of South Australia and Mahanvir Singh Grewal, president of Allenby Garden Gurudwara, have come forward to support Kaur-Thakur, pointing out that the festival precedes the birth of Guru Nanak ji.
Sikh separatism, however, has continued to grow and in December 2022, senior officials from the Government of India alerted the Australian government about its links to terrorist groups with a propensity for violence.
On January 12, 2023, the Swaminarayan Mandir in Mill Park, Melbourne, was attacked and vandalised by Khalistan supporters. On January 16, the Shri Shiva Vishnu Temple in Carrum Downs, Victoria, was smeared with anti-Hindu graffiti, and on January 23, the ISKCON Temple in Albert Park, Melbourne was defaced with slogans of 'Khalistan Zindabad' and 'Hindustan Murdabad', and Jarnail Singh Bhindranwale was lauded as a martyr.
In Canada, tensions between a pro-Khalistani group and India supporters burst into the open during Diwali celebrations at the Westwood Mall, in Brampton last year. Around 500 persons gathered in the parking lot of the mall, where one group raised slogans of "Khalistan zindabad" and waved the yellow flag of the organisation, while the second group carried the Indian tricolour and shouted back, "Jai Shree Ram". One man was injured in the fracas, but police swiftly restored order.
In a more serious development in India, pro-Khalistan posters appeared in Delhi's Paschim Vihar on January 19, as a prelude to the Republic Day celebrations. By January 20, pro-Khalistan posters and graffiti were spotted on walls in Vikaspuri, Janakpuri, Peeragarhi, Meera Bagh and other West Delhi localities.
The Delhi Police Special Cell arrested Vikram Singh (29) and Balram Singh (34) who were allegedly captured painting the graffiti on CCTV. The duo was reportedly promised Rs 2 lakh for the job, which they recorded and sent to members of the banned organisation Sikhs For Justice (SFJ), abroad. They claimed that they were paid only Rs 2,000/- and promised more assignments. Sikhs For Justice released the video with the graffiti and threatened incidents on Republic Day, which, however, passed off peacefully.
It may be recalled that on January 26, 2021, miscreants participating in the farmers' protest at the Delhi border, broke through the police cordon in tractors and entered the Red Fort, where they raised a yellow flag, which authorities claimed was not the flag of Khalistan. The incident, however, was a major breach of security and insult to the honour of the nation.
More incidents are expected during the year, especially in the run up to the general elections of 2024. It remains to be seen if the "referendums" spread to other Western nations during the year.