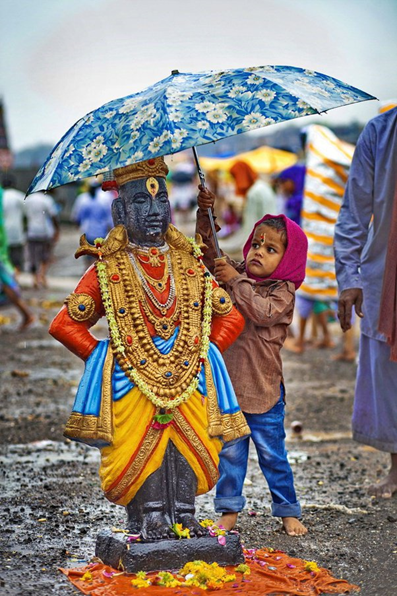 Over centuries, India has nurtured and venerated the existence of many saints who have taken birth time & again, blessing the land with the gift of their speech, songs and literature standing the test of time. These noble souls have breathed life into the scriptures by their way of life, devotion and compassion, relieving millions from confusion & sufferings.
Perhaps it is because of this that the Supreme is pleased to manifest into various avatars or forms. Mother Earth in Bharat Bhumi has witnessed many such manifestations that have created legendary devotional movements to usher in peace and harmony among diverse communities.
The holy town of Pandharpur is associated with one such young saint who is credited to have brought the deity Vithoba into being. Pundalik's renown led to the naming of Pandharpur as Paundrika Kshetra – the sacred place of Pundalik.
From a disappointment to an embodiment
Pundalik was a pampered, wealthy child who was later married to a beautiful woman. He was so infatuated with his wife that he began to neglect caring for his parents. His wife enjoyed his constant attention and incited Pundalik's meanness towards his parents.
In order to escape from the misery, the poor parents set out on a pilgrimage to Kashi. After a few days, Pundalik went in search of them and stumbled upon the Ashrama of Kukkutswami. He was perplexed by what he saw! Three women in dirty clothes appeared every morning and after completing all the household chores, vanished with their clothes now clean & bright!
When Pundalik begged them to reveal their real identities, the three women told him they were the rivers Ganga, Yamuna & Saraswati. They explained that their clothes were soiled because of the wrong actions committed by the pilgrims who took a dip in the rivers to wash off their sins. The clothes however became clean because of the purity and sanctity of Sage Kukkut's ashram.
How could Sage Kukkut who has never gone to a tirtha (a pilgrimage site near a water body) or a kshetra (a pilgrimage site near a temple) be so powerful that the 3 great rivers came to clean his ashram? – Pundalik wondered.
The reason was that Rishi Kukkut's seva to his parents has been so respectful and sincere that the merits earned by him purify us – answered the three rivers.
This hit Pundalik like a thunderbolt! Reproaching himself for his disregard of his mother and father, Pundalik turned over a new leaf. He began taking care of them with utmost sincerity and devotion. After accompanying them to Kashi, Pundalik settled in Pandharpur with his wife and parents. His unconditional love for his parents and noble deeds became widely known. From being a disappointment to them, his service became an example to the world.
One day, Lord Vishnu came down to visit his home. Pundalik was so absorbed pressing the tired feet of his parents, that he asked the Lord to wait until he had completed his filial duties. He threw a brick for the Lord to stand upon it, as an Asana(seat). Once his parents went off to sleep, Pundalik came out to attend to the Lord and apologised for his neglect but the Lord, far from being displeased, was so delighted with his single-pointed devotion that He offered him a boon!
"Please stay on here and bless the people" replied Pundalik.
The Almighty is known as the Bhakta Vatsala – one who loves to serve his unswerving devotees.
And so, Vishnu stayed on at Pandharpur as Vithoba (Vi – knowledge, Thoba – shape; one who is in the shape of knowledge) or Vittala – the one who stands on a brick.
A grand temple was built at the place where Krishna and Pundalik had met. Inside the temple stands Vittala's murti, by his side – the murti of Rukmini.  The deity of Panduranga is in the posture of a small boy, with both hands on His hip, waiting patiently atop of brick.
This form of the Lord Vithoba is believed to be Swayambhu which means that it has not been sculpted /carved, or etched, but came into existence on its own.
It is said that Pundalik founded the sacred site and shrine at Pandharpur. Many bhakts also regard him as the founder of the Varkari Sect, which is centered on the worship of Lord Vithoba.
Great Saints like Sant Jnanesvar, Sant Tukaram, Sant Janabai, Sant Namdev, Sant Eknath, Sant Sakhubai, Sant Kanhopatra, Sant Gora Kumbhar, Sant Damaji, Sant Savata Mali, Sant Bhanudasa, Sant Nivruttinath, Sant Muktabai & many more, are known to have composed and intoned Abhangs (Marathi poems in rhythmic prose sung with seamless continuity as exuberant expressions of the communitarian experience) in praise of Lord Vittala.
Holy Town of Pandharpur
As per the records, Pundalik had inspired one of the greatest rulers of the Hoysala Empire, Vishnuvardhan, to build the Pandharpur temple for Lord Vittala in 1117- 1137 AD, thus placing him as a saint of the early 12th century.
Pandharpur is now a famous pilgrimage town, on the banks of Chandrabhaga River, near Solapur city in the district of that name in Maharashtra, India. It is also known as the Southern Kashi of India and hosts the Kuldaivat (clan – deity) of Maharashtra.
Padasparsha Darshan is the unique feature of Vithoba Temple followed till today. It's a tradition wherein, irrespective of the region or community a person comes from, every devotee can enter the Sanctum Sanctorum and can place his/her head on the feet of Lord Vittala who fulfilled the wish of Pundalik by His eternal presence!