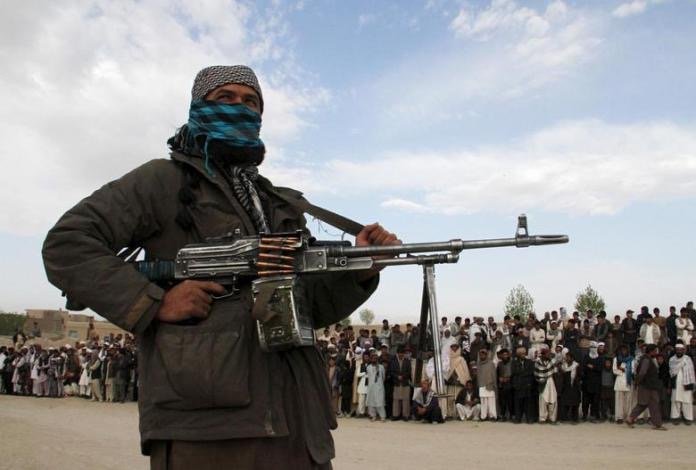 Abdullah bin Laden, son of al-Qaeda leader Osama bin Laden, visited Afghanistan in October 2021 and met with Taliban leaders, even as terrorist groups such as Al-Qaeda in the Indian Subcontinent (AQIS), Islamic State in Iraq and the Levant (ISIL), and Islamic Movement of Uzbekistan (IMU) live freely in Afghanistan, according to a report of the UN Security Council. The report, submitted to the Security Council by Secretary General Antonio Guterres on January 26, 2022, debunks the Taliban's pledges that it will not allow foreign terrorists to operate on Afghan soil.
Al-Qaeda, according to the report, is currently maintaining "strategic silence" so that the Taliban can secure international recognition and legitimacy. But terrorist organizations based in Afghanistan now have more freedom than ever. Soon after the Taliban seized control, a video shared on social media proclaimed the return of Dr. Amin-ul-Haq, who was responsible for Osama bin Laden's security, to Afghanistan. It is said that the current al-Qaeda chief, Ayman ​​al-Zawahiri, was alive as of January 2021, though in poor health.
Since they took over the country on August 15, 2021, the Taliban fighters and affiliates have reportedly killed scores of former Afghan officials, security force members and people who worked with the US-led international military contingent, in violation of a general amnesty announced on several occasions. Antonio Guterres urged the Security Council to approve restructuring of the UN mission to handle the situation and set up a new human rights monitoring unit.
The report observes that there have also been extra-judicial killings of at least 50 persons allegedly linked to the local unit of the Islamic State. Taliban's principal targets include human rights defenders, media workers and minorities. On January 30, 2022, all Hazara (Shia) judges were removed from service. Women are also in the crosshairs of the Taliban, and local media have been warned not to report about women or women's issues.
Guterres warned that Afghanistan is on the brink of collapse as GDP has shrunk by 30 per cent, and asked the international community to support the "One UN" Transitional Engagement Framework for Afghanistan, launched on January 26, 2022, with $4.4 billion. Guterres noted that Afghans are suffering extreme hunger in a brutal winter. Ambulances and hospital power generators are running dry because of skyrocketing fuel prices, while civilians are suffering from COVID-19,and preventable diseases like measles and polio. Education and social services are failing and millions of children, especially girls, are denied education. Referring to reports of arbitrary arrests and abductions of women activists, he urged their release.
The Afghanistan fund will focus on health, shelter, nutrition, protection and emergency education, and give cash transfers to help families make ends meet. Recommending greater flexibility in the use of international funding, he said the fund must be allowed to pay the salaries of public-sector workers (surgeons, nurses, teachers, sanitation workers, electricians). The World Bank's reconstruction trust fund for Afghanistan transferred $280 million to the United Nations Children's Fund (UNICEF) and World Food Programme (WFP) in December 2021.
Mahbouba Seraj, Executive Director, Afghan Women Skills Development Center, briefed the Security Council in person and urged, "You have a tremendous responsibility for keeping the promises you have made to us, the women of Afghanistan, over the years." The Taliban have eroded two decades of hard-won rights for women and girls. The United Nations Assistance Mission in Afghanistan (UNAMA) must ensure that the Taliban adhere to their bilateral and international commitments. Seraj insisted that the international community stop sending all-male delegations to meet with the Taliban, as it "sends a dangerous signal that you do not value our rights or our views". She called for inclusive governance for and by Afghans, diverse representation of Afghan women, especially civil society, in all ongoing negotiations with the Taliban.
Norway Prime Minister and Council President for January, Jonas Gahr Støre, asserted that a recent visit in Oslo by members of Afghan civil society and a high-level Taliban delegation aimed at engaging the latter to meet the needs of Afghan society.
The Russian Federation's Dmitry A. Polyanskiy urged Western States and donors to return Afghanistan's frozen funds to the regime, without which the nation will face greater instability. China's Zhang Jun mooted an end to unilateral sanctions, and urged the international community to find ways to inject liquidity into the economy. He observed that aid deliveries have not improved since the adoption of resolution 2615 (2021) as some parties use aid as a bargaining chip, which is morally unacceptable and strategically dangerous.
The United States' Linda Thomas-Greenfield acknowledged calls for release of frozen assets, but said the Taliban must ensure unhindered humanitarian access and movement for aid workers and assistance to all in need, uphold their counter-terrorism commitments and respect human rights, particularly of women and girls.
Afghanistan representative Naseer Ahmed Faiq clarified he was speaking for the Afghan people and not the former Government or any political group, and appealed to the Taliban to "act responsibly to save Afghanistan from the ongoing crisis".
Deborah Lyons, Special Representative of the Secretary-General and outgoing Head of the United Nations Assistance Mission in Afghanistan (UNAMA), informed the Security Council that by end-2021, nearly 18 million people were given life-saving assistance and more than 2,000 primary and secondary health facilities were supported. Calling for relaxing sanctions that inhibit delivery of essential services, she said the liquidity crisis and inability of banks to operate was creating a humanitarian crisis for families. The "One UN" Transitional Engagement Framework for Afghanistan could bring $8 billion for 2022 for health, education and infrastructure, with special focus on women and girls. But donors are unsatisfied with the political progress in Afghanistan.
Lyons pointed out that calls for greater ethnic inclusion in governing structures have gone unheeded and reports from the ground suggest a reign of intimidation: killings, enforced disappearances, abductions, detention of civilians, and media censorship. The Secretary-General plans a new political mission in Afghanistan as the collapse of Afghanistan is in no one's interest.
T.S. Tirumurti (India), Chair of the Committee created following resolution 1988 (2011) and tasked with overseeing sanctions related to the Taliban, said the goal is to facilitate conditions that promote dialogue and result in peace and stability. Hence, in December 2021, the Committee extended the three-month travel ban exemption for 14 listed Taliban members to continue attending talks to promote peace and stability.
As the activities of the Taliban, especially individuals and entities listed under the 1988 sanctions regime, need to be monitored, the Security Council extended the mandate of the Monitoring Team for one year (resolution 2611 of 2021). The Monitoring Team in its latest report noted that ties between the Haqqani Network, Al-Qaida, and foreign terrorist fighters remain close due to ideological alignment. The Islamic State in Iraq and the Levant (ISIL/Da'esh) is involved in terrorist attacks.
Overall, the situation in Afghanistan remains grim. Others who spoke at the Security Council session included Michael Kiboino (Kenya), Geraldine Byrne Nason (Ireland), Juan Ramón de la Fuente Ramírez (Mexico), Nicolas de Rivière (France), Pacôme Moubelet-Boubeya (Gabon), Harold Adlai Agyeman (Ghana), James Kariuki (United Kingdom), Lana Zaki Nusseibeh (United Arab Emirates), Ferit Hoxha (Albania), João Genésio de Almeida Filho (Brazil), Bakhtiyor Ibragimov (Uzbekistan), Majid Takht Ravanchi (Iran), and Munir Akram (Pakistan).