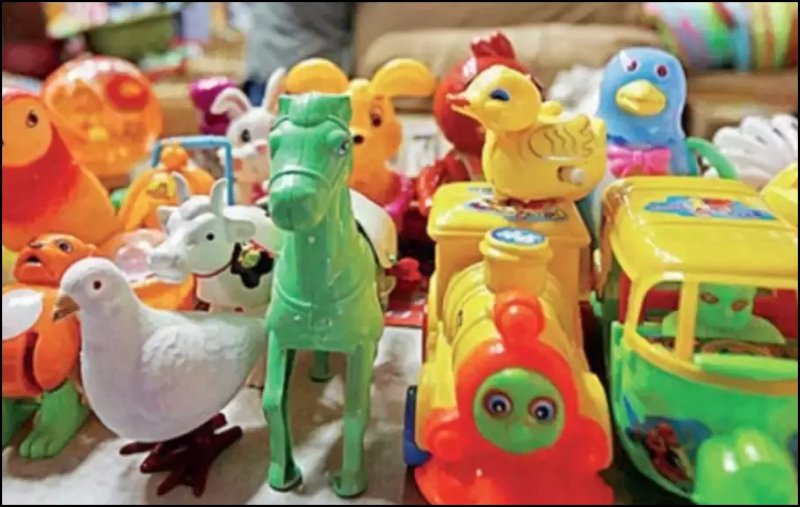 The Indian toys have a rich inheritance which can be traced down in the Harappan civilization. The excavations at various locations unearthed several articles in the shape of animals, symbol-based coins, wooden toys etc. Our ancestors were well known to entertain themselves with sports and play. Indian toys were based on the local culture or 'sanskriti'. The manufacturers designed the toys by getting inspiration from surroundings and the materials used were also locally procured and were safe for children and the environment too.
In Jammu & Kashmir, walnut wood carving and paper are renowned. The folk toys of Punjab are made of clay and wood. Rajasthan has been a huge source of wooden toys and is also well known for cloth dolls and soft toys which are prepared with waste materials. The betel nut toys of Rewa in Madhya Pradesh are exceptionally attractive. The terracotta toys which are crafted in Gujarat in the shape of various animals are attractive and are part of the traditional Indian pottery. Goa is also good at making toys from wood, coir and cotton which reflects the aesthetic blend of Portuguese and Indian cultures. Daman & Diu is famous for mat weaving craft and tortoise shell toys and crafts. Uttar Pradesh and Bihar produce bamboo weaved toys and crafts. The famous Kondapalli toys of Andhra Pradesh are believed to have mythological origins as the Mukta Rishi gained this knowledge from Lord Shiva. Kerala uses coconut palm leaves to make a wide range of eco-friendly homemade and handmade objects. Toys are manufactured from various locally abundant raw materials like wood, rubber, metal and textiles etc.
Indian toys and games are made for the children not only to entertain them but also to train them for adult life. They are crafted to teach the skills and values of the local society. Indian toys and games are simple and inspired from nature.
The Indian toy has only 20% of market share and the other 80% are imported from China, Taiwan, Korea, US and the UK. The continuous flow of imported toys forced many manufacturers to shut down their units. The Indian toy industry is facing severe competition and there is a need to give close attention and efforts to rejuvenate and save the industry. The Government of India took the timely decision to organize a four days toy fair from 27 February to 02 March this year through a virtual platform. More than a thousand exhibitors from all across the country displayed their products and contributed in making India self-reliant and a potential center for the international toy industry.
This business is mostly confined to the Micro and Small-Scale Industries, catering mostly to local needs. It is labour intensive and utilizes the skills of master craftsmanship and creative designing. The toy market in India is unorganized and is proportionately very small given the size of the population and per capita income.
Due to the coronavirus pandemic, India faced unemployment in labour intensive industries and the Indian toy industry is labour intensive. So, with the thought of promoting indigenous toys, the toy industry has the potential to open new avenues for generating employment.
As the origin of Covid-19 virus reportedly began in China, a new perception has developed among parents all around the globe and now many may be less inclined to buy such imported toys. Awareness among parents regarding the generation of unhealthy waste in the form of rejected plastic and electronic toys inclines them to move towards purchasing indigenous toys. The Quality Council of India in their report found that 67% of imported toys are unfit and potentially dangerous for children's use.
Prime Minister Narendra Modi stated that our country has a long tradition and technological expertise for making toys. To nurture and revive that industry a national toy action plan has been framed, bringing together 15 ministries and departments to enable Indian toys to reach foreign markets. With this action we can take the world back to eco-friendly toys and, with the help of our software engineers, new computer games can bring the stories of India to the world. There is a need for entrepreneurs to gear up for toys manufacturing as India's share in the Rs 7 lakh crore global toy market is very low.
This is a golden opportunity for toypreneurs to make a fresh start and contribute to employment generation, by tapping the growing market of eco-friendly toys. India can take its artisanal skills to the global level. It will be a driver for the renaissance of Indian craftsmanship and will uplift 'desi' products to the level of international standards.