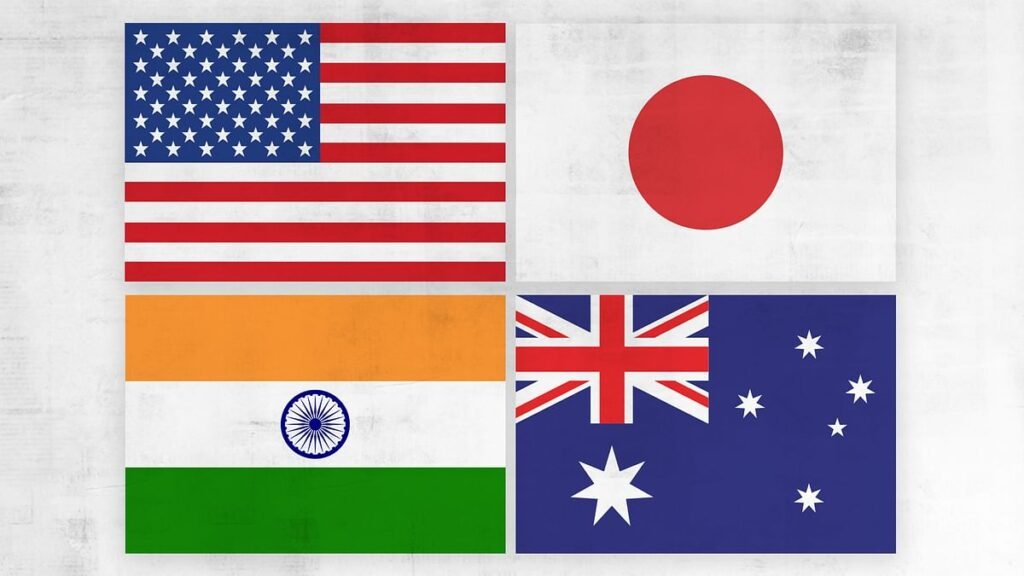 The Quad is an offspring of the US' Indo-Pacific security umbrella, a revival of the long-defunct SEATO under contemplation for quite some time at various levels of the US think-tanks. The perception received a boost during the Trump administration when relations between Washington and Beijing soured.
Besides the urge to protect her superpower status, Washington's Indo-Pacific motivation is a reaction to China's belligerence towards her smaller neighbours in the South and the East China Sea. In recent years, China has considerably upgraded the capability of her naval strike-power and has been conducting naval exercises in the South China Sea and the Indian Ocean region with an explicitly offensive purpose. China has developed ports around India in Gwadar, Hambantota, Chittagong, and Kyaukpyu in Myanmar – called "string of pearls around the Indian sub-continent". They may also serve as resupply and recreation stations for Chinese naval vessels and their crew, enabling the PLA Navy to extend its reach deep into the Indian Ocean.
China's intention in spreading out her naval sinews far and deep is to ensure the security of the Strait of Malacca, the narrow but highly strategic strait through which three-fourth of the world trade flows and in which China has a big stake. Any country strong enough to choke the Strait of Malacca undoubtedly controls the jugular vein of trade in the Asia-Pacific.
For centuries in medieval times, China was both the source and destination of the fabled Silk Road – the main artery of ancient international trade — that ran from the east to the west of the Eurasian lands. In recent years Beijing has come out with a more ambitious plan called the Belt and Road programme. The Karakoram Highway connecting Urumchi with the Pakistani seaport of Gwadar was completed two decades ago and now a larger connectivity venture called China Pakistan Economic Corridor (CPEC) is the buzzword in Sino-Pak circles. China's aggression against India in Eastern Ladakh in May 2020 alerted many countries that there was an existential threat to the global balance of power.
The incident further aroused the US' security concerns, and the Indo-Pacific graph received a shot in the arms. The Quad became active to give a clear message to China that the decisive battle for regional and global hegemony may have to be fought not on the snow-clad heights of the Himalayas but on the turbulent waters of the Indian Ocean Region (IOR).
What does it mean for the Asian region and the world at large? It reflects the grandiose mission of China to dominate the world first through economic and then military might. In the name of assisting under-developed and developing countries in the Asian-African continents, in particular, China offers massive financial support for building basic infrastructure. The objective is to submerge the beneficiaries under the amounts of principal and interests which they may not be in a position to repay in any case and thus in return they turn into a vassal state. Pakistan is a typical example.
It is a long-practiced form of debt-colonialism, earlier mastered by European states but made perhaps more penetrative and devastating by the power of modern technologies. It is a challenge to many achievements like democratic political system, relative free market, transparency and the current world order. As such It is a potential challenge to human freedom.
The Quad blueprint has been there informally for several years. However, President Biden called for the first time, a formal (virtual) meeting of all the four members to deliberate on the challenges facing them.
It can be assumed that President Biden wanted to know how the other three Quad members looked at the situation arising out of growing Chinese belligerence in the Indian Ocean Region (IOR) and its implications for global trade and commerce before the US-China ministerial level meeting in Alaska.
Experts assert that the Quad Summit meant an opportunity for Biden and his team to figure out on which specific issues the United States could secure support from Australia, India and Japan. Regional security issues, such as growing competition in the South China Sea and possible military conflict in the Taiwan Strait, have always been the top priority of previous meetings under the Quad format. Ni Lexiong, a military expert at the University of Politics and Law in Shanghai, told Sputnik, "Unification using military force is justified under Chinese traditional ethics. In China, everyone has to support national unification. A nation's territory cannot be separated forever. This solved the question of whether a war is justified or not. It doesn't matter if other countries agree with this or not," he said.
The Quad virtual meeting appears to have been a success story due to the convergence of apprehensions and perceptions. Its leaders, meaning the US president, and Prime Ministers of India, Australian and Japan, wrote in a joint Op-ed that "the Quad is a 'flexible' group of countries sharing similar world views and committed to ensuring peace and prosperity which is also open to working with others sharing those goals." "Ending and recovering from the pandemic, standing up to climate change, and advancing our shared regional vision will not be easy. We know we cannot and will not succeed without coordination and cooperation," stated a rare Op-Ed in the Washington Post, penned jointly for the first time by US President Joe Biden, Prime Minister Narendra Modi, Australian Prime Minister Scott Morrison and Japanese Prime Minister Yoshihide Suga.
President Biden has pulled US' China policy out of a canister of ambiguity and indecision. His foreign policy is hinged on two ambitions viz. rebuilding ties with frustrated allies and raising a united front against China. It should be noted that all the four partners rely on trade with Beijing, even though they often clash with China on security, democracy and human rights. "There is a growing appetite in Tokyo for a strong response to China's moves" in the South China Sea, The Japan Times reported.
As planned Foreign Minister Wang Yi and Yang Jiechi, a member of the Political Bureau of the CPC Central Committee, held a "high-level strategic dialogue with US Secretary of State Antony Blinken and NSA Jake Sullivan" in Anchorage on March 18 and 19.
Briefing reporters, White House Press Secretary Jen Psaki said, "It was important to us that this administration's first meeting with Chinese officials be held on American soil, and occur after we have met and consulted closely with partners and allies in both Asia and Europe."
That US-China meeting was convened in the wake of a top US commander's testimony before the Senate Armed Services Committee. Adm. Philip Davidson, the head of US Indo-Pacific Command, has apprised Congress about China's increasing offensive military build-up and its expanding regional footprint, according to CNN. "I cannot for the life of me understand some of the capabilities that they (Chinese) are putting in the field unless it is an aggressive posture. I see those developing systems, capabilities and a posture that would indicate that they're interested in aggression," Davidson told the Senate Committee.
CNN reported that he also described China as "the greatest long-term strategic threat to security in the 21st century". He highlighted how Beijing has been carrying out increasingly threatening moves, citing Chinese military activity around Taiwan, along its disputed border with India, and even around US islands in the Pacific.
However, the Chinese state media has refuted Davidson's comment, saying Beijing has no intention to challenge the US. Quoting Chinese experts, Global Times warned such a hostile attitude held by the US military could increase the risks of conflicts in the region, and that regional countries won't share US hostility against China.
Chinese analysts said that the People's Liberation Army (PLA) is strengthening its combat capabilities to thwart new challenges. A large number of advanced weapons and equipment will be developed and commissioned as Beijing plans to turn PLA into a world-class military, they said.
India has been a victim of Chinese expansionism since the 1962 war. But the India of 2021 could stand up to Beijing. The Indian Ocean could become the scene not of a war of civilizations but of a feud between multilateralism and unilateralism. In that sense the Quad would be the leader of an international front for democracy.