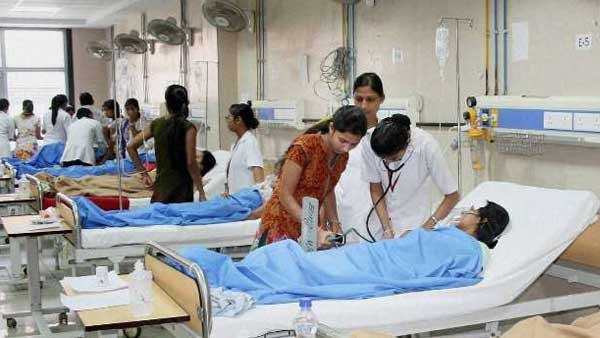 COVID-19 pandemic conditions bound us to rethink alternative health models in the country. Decentralized health care system is the need of the hour. Neighbourhood Clinics (NC) can be a potential game changer to lead, mobilize, improvise and synchronize efforts for successful delivery of primary health care in cities, urban and rural areas. These clinics will complement and supplement the existing healthcare system and initiatives under National Health Mission, Health & Wellness centers under Ayushman Bharat program and Community Clinic initiatives such as Mohalla Clinics and Basthi Dawakhana to catalyse Universal Health Coverage (UHC) in India.
Case study: Delhi's response to COVID-19: Delhi's public health infrastructure is at a breaking point. Because of new active cases, Delhi is facing an acute shortage of healthcare resources like hospital beds and oxygen, nurses, doctors, paramedical staff and technicians. Delhi immediately needs to figure out how to utilize the available resources to mobilize, channelize, coordinate and support and augment the existing healthcare infrastructure and professionals. Delhi has multilayered health care infrastructure comprising of many centers of excellence in medical services such as central government-run All India Institute of Medical Sciences (AIIMS), Safdarjung, Ram Manohar Lohia (RML), Kalawati Saran Children Hospital, ESI Hospital Basaidarapur, and ESI Hospital Rohini, 75 Delhi government-run hospitals, private hospitals and Delhi government-run Mohalla clinics. However, despite having the nation's best infrastructure and doctors, the second wave of COVID-19 has brought the system to its knees. The question here naturally arises: why is it so? The current situation highlights the lack of resource synchronization and symbiotic existence of various medical infrastructures in Delhi-NCR. This pandemic has taught us a lesson about the need for an efficient community based-micromanaged Neighbourhood Clinic model (RWA, Mohalla, Panchayat) for the primary level health care system.
Across the globe, various decentralized health models have been successfully adopted. Knowledgeable neighbour mobile clinics in USA or Cuban community clinics have been evolved as alternative health care systems.
Objectives and actions to implement effective Neighborhood Clinics (NCs) in India:
1. NC will provide a full range of primary health services for disease prevention, health promotion and not just curative services. It will manage preventive diseases, Non-Communicable Diseases (NCDs) like diabetes mellitus, hypertension, lifestyle disorders and health promotion initiatives which require regular interaction, long term care, monitoring, medication and follow ups. NCs will enhance opportunity for innovation by integrating traditional medicine practitioners into the established western medicine model. This will evolve Indian traditional medicine systems while increasing the access to facilities and doctors ten to fifteen-fold. Government, state, private specialists will support, supervise and handhold NCs and their health work wherein needed.
2. An independent advisory group of experts to prepare the local health agenda and guide for the implementation: A team of scientists-doctors-public administrators will design a local action plan according to evolving community risk factors. The agenda will be complementary and supplementary to the national broad spectrum of initiatives and these clinics will do the continuous assessment and risk evaluation (CARE) by monitoring and examining the local patients.
3. Dedicated budget for NCs: Poor financial management and coordination at central, state, municipal corporations, councils and panchayats need to be fixed. India needs to invest in health services with a definite clarity amongst various agencies at different levels delivering health services, hence a defined and detailed roadmap and operational plan of financial resources and sustained political commitment will ensure the success. Resources beyond government funding need to be tapped; cooperative models for health governance could be explored.
4. NCs will take leadership to grass root level and empower local panchayats, councils, MCD leaders to lead the efforts required for UHC and sustainable solutions. Engagement of the Minister of Health, Chief Minister of State, Mayor of a Municipal Corporation will ensure functioning coordination with Ministers of Finance to budget for NCs and related initiatives.
5. Accessible, equitable, affordable, quality primary health-care services for all- NCs can be prioritized in under -developed localities, but the goal is to include all the sections of society and develop a multilayered resilient system. Consultation, preventive medical care, diagnostics and medications for patients with low income will be free and payable for the patients who can afford it. Such a framework will fight the perception battle of poor-quality services, ensure access for the unreachable and marginalized and quality care for all.
6. NCs will facilitate a new mechanism for robust local health data collection and analysis: NCs will facilitate a detailed local situation analysis study and document continuous assessment and risk evaluation by monitoring and examining the local patients. Data analysis at the early stage helps to plan, redesign services and take appropriate measures to respond to medical emergencies timely. NCs being an initial data set could then be expanded for strengthening the overall national health information system. It will facilitate the use of emerging information and communication technology tools for patient identification records, data collection, and monitoring systems.
7. An effective accountability, monitoring and micromanagement mechanisms: A system with multi stakeholder engagement of health professionals, community members and elected representatives, a RWA level of management and health welfare committee, with local representatives and volunteers. This will ensure the sustainability and continuity and resilience in the healthcare system.
8. Boost faith and participation of the people in the public health system: as a useful local entry point, NCs aims to provide the best of services which can be offered. NCs will assist in coordination with linkages required for the next level of refereed specialized centers.
9. Role of NCs in health emergency preparedness: For national preparedness, NCs will facilitate to build and prepare "trained community health force" to mobilize human, physical and financial resources to beat the crisis by training local NGOs, RWAs, volunteers to build:
a) Local Crisis Management Team: to provide health and education to the local masses, and share real time data on evolving resources and services for availability and crisis. It will facilitate tele-consultation wherein needed.
b) Local Data Management Team: will prepare live dashboards by pulling information of that local area for decision making and general information. It will communicate, share information and coordinate with state and central coordinating teams.
c) Local emergency centre and helpline– as national and state emergency helplines in crisis get choked and not sufficient for basic information, immediate care and for local follow-ups.
d) Local coordination of medical supplies: NCs will guide and assist for availability of medical facilities and coordinate the supply management for storage and distribution of medical supplies like masks, sanitizers, immunity boosters, oxygen cylinders etc.
e) Local psycho-social support through counselling using helplines– NCs will build teams of locals for supporting the mental well-being of their area. Local NGOs and RWAs volunteers can be trained by qualified clinical psychiatrists and psychologists for mitigating the immediate mental health crisis
f) Local vaccination facilitation drive: improvisation by locals for effective communication and messaging in their community. Strong messaging by locals for vaccine confidence, breaking stigma associated with COVID-19, promoting sanitation, hygiene and COVID good behaviours in their surroundings.
With focused attention, a well-organized health care system that supports Neighborhood Clinics led by local bodies for primary care can benefit all Indians.