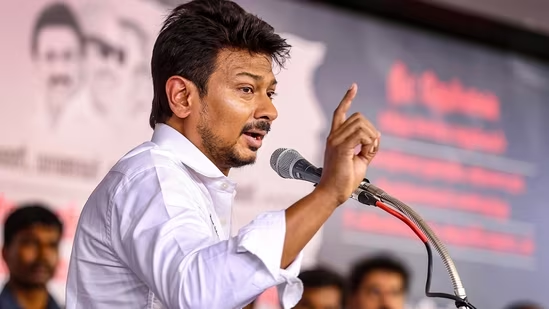 Udhayanidhi Stalin's comment on Sanatana Dharma: comparing it to mosquitoes that cause malaria, dengue and corona to be eradicated, and then, in his later explanation: since Sanatana Dharma has a caste-system, it has to go … are views not his own alone but borne out of communal groupthink. Next, A. Raja's (DMK-M.P.) followed- up by calling it HIV, leprosy etc. For the past several decades, Kanch Iliah has been airing similar views on Hindu religion with visceral hatred. This kind of pervasive views from atheists, agnostics and rationalists would only help the other religionists in India to think that their religions are far superior and profess "equality", whereas Sanatana Dharma i.e. popularly and interchangeably known as Hindu Dharma, doesn't create "equality" among its followers.
Years ago, together, secular parties proclaimed that secularism means: equal respect to all religions. In that case, if other religious communities think their religions are better, bring more egalitarian than the majority-Hindu Dharma, it paves the way for communal feelings among them. If Udhayanidhi was only arguing for equality among all castes, why did he bring-in a religious aspect? All members in Dravidian parties vouch for being agnostics or atheists, then where is the question of religion? And particularly on Sanatana Dharma, since Hindus have no Prophet, no historical dated origins to point out, the Dharma they follow is Sanatana (timeless).
The DMK-Party founder, E Ramaswamy Naicker, popularly known as Periyar (he lived between 1879 and 1973) had propagated hatred towards Brahmins, Brahminism and the people of North India … calling them Aryans. Though Periyar singled out Brahmins in his hatred, he was successful in galvanising the lower castes. During his time, Periyar openly canvassed for atheism and shaped his ideology into a movement but Udhyanidhi's focus seemed to be elsewhere, on promoting something other than the Hindu religion. Periyar's movement was a violent one. Because of it, Brahmins were subject to untold suffering. Some even assimilate it to a genocide. In any case, his movement could not take off and spread to the entire country. It failed. Periyar himself witnessed in his lifetime the defeat and division of his party. Periyar was no paragon of virtue either ideologically or personally. Yet, Dravidian parties hold on to him and his ideology in Tamil Nadu. It is time for them to move on.
Strangely, the DMK party-members have been rallying around Udhayanidhi Stalin after his remarks on Sanatana Dharma and applauding. That exhibits only their group loyalty, not their individual rational thinking. It is said that they saw their revered Periyar reincarnated in Udhayanidhi. The DMK is a constituent in the I.N.D.I.A alliance-conglomerate. The other constituent-parties like the RJD, JDU etc. are devotedly caste-conscious. They are seeking a caste-census to bring in further division in the Hindu society. Their aim is to have a society fragmented on caste-lines, so that they could gain the votes of religious-minorities by appeasing and privileging them and in all likelihood add up their own caste votes to win elections. That is how they played politics all along so far. In fact, these I.N.D.I.A- constituents are justifying the existence of castes. If this is the reality, why is the DMK eradicating either castes or (allegedly) caste-based Sanatana Dharma?
As per the Constitution of India i.e. Bharat, all citizens are equal. When all are equal, no one needs rights (extra) any longer. Yet, the Constitution of India has given rights and protection to Dalits, taking into cognisance that they have been oppressed historically. In any case, nowadays, all the world's nations are paying attention to equality. Nobody says this egalitarian process should not continue. Yet, these self-proclaimed proponents of "equality" wage war against fellow humans whom they perceive as privileged for being upper-caste. It should be clear to the so-called eliminators of Sanatana Dharma that much water had flown under the bridge from the Periyar period. The present struggle is not so much between castes but it is about reducing economic inequality. Wealthy and privileged-dynasts like Udhayanidhi use their clout in society to enrich themselves further on the back of their voters because they are the son/grandson of powerful politicians. It is this privileged class that includes Udhyayanidhi Stalin, Priyank Kharge and Rahul Gandhi that contributes to inequality in the society, as much if not more than the worn-out caste-system at present. That is the reason for today's resentment against the elites and dynasts. Let Udhyanidhi come down from his high-horse to think of it.
Whenever there is talk on caste-inequality, these rationalists justify their positions by quoting Dr BR Ambedkar. Indeed, Ambedkar suffered caste-discrimination. Hence, he proactively corrected it, while drafting the Constitution. All said and done, Ambedkar was a self-made man compared to 'Princeling' Udhayanidhi. Equality in essence means – giving equal opportunity to all. How many young children get the opportunity that these scions of privileged clans have got in our country? Equality in a democracy also means that every institution of government must be open to all i.e. as is available to the entitled. Are the Government institutions in TamilNadu open in the same way to Udhayanidhi and to the common man? These Dravidian Parties in T.N. make fallacious and circular arguments. Even the much-acclaimed National Eligibility cum Entrance Test (NEET) examination is also viewed as discriminatory and biased against Dalits/lower castes. None of the other states have said so. It is odd to see Tamil Nadu Govt. to gloating over the increased percentage of reservation which now exceeds fifty per cent and thereby represents a serious hurdle for many talented candidates to get a fair chance. The DMK party is odd in many aspects. The oddest of the odd is precisely Udhayanidi Stalin's remark on Sanatana Dharma in the deeply religious state of Tamil Nadu!