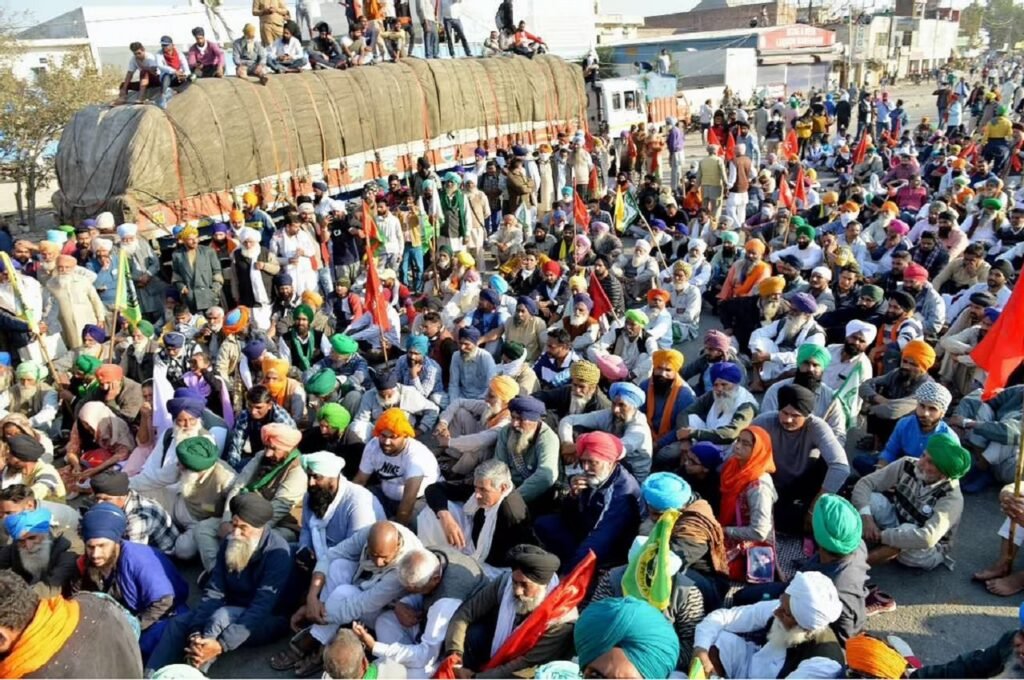 At a time when farmers should be fully engaged in sowing the rabi crop to the exclusion of all other concerns, a large number of farmers have left their fields in Punjab and moved to Delhi, carrying abundant provisions for a prolonged stay in the capital. Some conclusions are warranted from this nonchalance.
First, affluent Punjab farmers no longer work in their fields at all, but function as absentee landlords, delegating all work to migrant labour. This delinking from farm work by landowners has caused the younger generation to move away from agriculture and farms are increasingly being given on rent by absentee owners. Incidentally, these large farmers had earlier opposed MGNREGA as they had to match wages or lose farm labour.
The Centre should investigate the extent of this absentee landlord phenomenon and decide if income from rented fields can be considered as income from agriculture and made exempt from income tax. After all, urban citizens pay tax on income from rented property. Hopefully, our Marxist intellectuals (remember, land-to-the-tiller-of-the-soil) will have no objections.
Second and far more disturbing is the possibility that the protests have been organised by long-dormant Khalistan sympathisers in concert with Canada's New Democratic Party (NDP) that supports an unofficial referendum 2020 to separate Punjab from India. Pakistan's Inter-Services Intelligence (ISI) can be expected to be involved, as Khalistan was the brainchild of Gen. Zia ul-Haq.
It may be mentioned that after the new laws were passed in September, the Centre procured rice and wheat at the minimum support price (MSP), which should have scuttled the propaganda that small and marginal farmers would be shortchanged under the new farm laws. Certainly, no farmer has claimed that his harvest is unsold to this day, or that he was denied remunerative prices at the time of sale. The farmers who have marched to Delhi have come after burning the rice stubble in their fields, which are now being sown by migrant labour. Above all, a farmer in Dhule district, Maharashtra, has successfully invoked the new laws to make a Madhya Pradesh trader settle his dues of over Rs. 3 lakh, expeditiously.
Clearly, any flaws or shortcomings in the new farm laws have not manifested in this short period. However, since most procurement was done by the Food Corporation of India, it is likely that the cess collected by the State mandis (Rs. 3,642 crore in 2019) was not paid this time, which could have caused angst to the government.
None of this explains the presence of posters of Jarnail Singh Bhindranwale and pro-Khalistan slogans in the so called farmer protests. Neither the organisers of the protests, nor the Punjab Government, have dissociated from these posters and slogans. A particularly despicable video that has gone viral on social media shows a middle aged man gloating over the assassination of Prime Minister Indira Gandhi, and threatening to deal with Prime Minister Narendra Modi in like fashion, if their demands were not met at the meeting fixed for December 3, 2020.
It is true that the man looked too effete to carry out his threat, but the point is that he was serving as a willing mouthpiece for actors behind the scenes, and could well have been a Khalistan sympathiser (even activist) at the height of the movement in the 1980s. The idea that the Khalistan movement could have dormant sympathisers, like terrorist sleeper cells, that could be activated on command, has not adequately engaged the attention of India's security agencies, and poses a new danger.
In their brief presence in the capital so far, there have been other videos of crowds chanting hostile slogans against the Prime Minister. Most of these gatherings featured a Punjabi film actor, Deep Sidhu, who was posing as a farmer until outed by social media. Sidhu became famous when a video surfaced of him urging the police to open the Punjab-Haryana border as the farmers' movement was an 'inquilab' (revolution) that would prove to be a "defining moment" of the geopolitics of India and all South Asia.
Sidhu is pro-Khalistan. Media reports suggest that some weeks ago, lawyer Hakam Singh had objected to a youth raising pro-Khalistan slogans at a rally, and handed him over to the police personnel deployed there. Enraged, Sidhu expelled Hakam Singh from his Shambhu Morcha and uploaded a video stating, "Taking such a decision was very necessary because our quam has made scores of sacrifices for the cause of Khalistan. If anyone raises a slogan in its favour, our reaction to it cannot be so ruthless." He added, "I would like to say again that neither armed Sikh struggle was wrong, nor a declaration of Khalistan. Raising pro-Khalistan slogans was also not wrong".
Clearly, the dominant voices in the current farmers' protest are signalling their arrival in the capital to forces outside our borders. Chief Minister Amarinder Singh will not like these actors to operate inside Punjab, but seems content to allow them to become the Centre's headache. Even after 48 hours of provocation, he has maintained silence.
The Captain is a mature politician. He should know that it is he and his State that are in the crosshairs of the Khalistanis. This is not the time for games: all good men should come to the aid of the nation.